3 Reasons Your Blog Should Be a Group Effort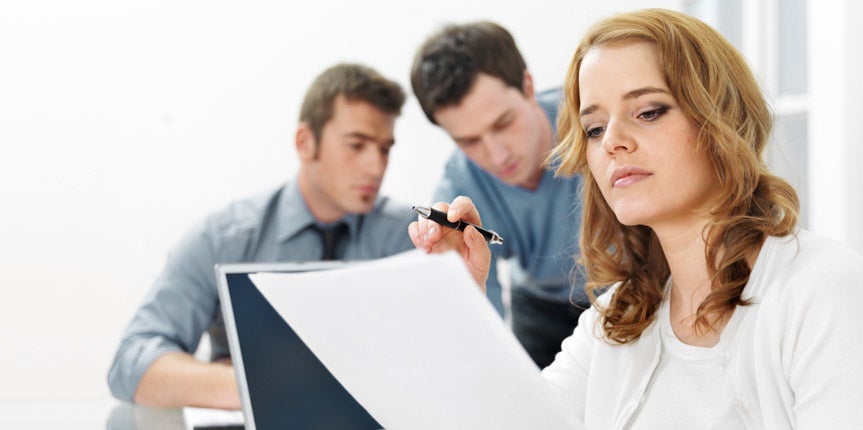 Blogs occupy an odd space in the world of business marketing. Typically, a blog is first an SEO tool, a way of injecting your website with fresh, new content to appease the almighty Google algorithm. But it is also a way for you to be a bit more creative, and to help those who actually take the time to read your blog.
A certain amount of care must be invested into making the blog a success, or it will stagnate and eventually die. Many times the blogging effort becomes halfhearted, especially if the position responsible for blogging has a high turnover rate—for example, social media interns who typically stay on board for a semester at a time—or if the person in charge of blogging burns out.
To combat this, it is an excellent idea to make updating your business blog a team effort, rather than letting it fall squarely on your shoulders, or worse, the shoulders of an unpaid intern. Here are three reasons you shouldn't go it alone on your blog.
1. No Blog Left Behind
If you have a team of two or three people that manage the day-to-day operations of the company's blog, or the business's blogging obligations, there is absolutely no way you could ever go more than a few days without a new post. A group effort helps keep everything on the same schedule, and allows for brainstorming, which means stronger content.
Though a blog needs a voice to speak to its audience, and a team of writers can give it that voice, it also must have a purpose. Figure out what type of content you'd like to see, and define the purpose of your blog, so that your team has a good idea of what to write. Then let them take care of your blogs and rest assured that each outlet you contribute to will have well written content delivered on time.
2. A Team Approach Keeps Your Content Fresh
Brainstorming is a very useful process when writing. Ideas build onto each other, fortified by other opinions and perspectives, creating an amazingly strong topic that can inspire a truly great post. Churning out that type of content keeps a blog fresh, and ensures that it doesn't have to rely on the same old regurgitated content every single week. Even if your team is stuck and has to rely on a "5 reasons why…" or "10 things I like about…" type of post, the fact that they are able to brainstorm with one another will ensure that whatever is covered in the post hasn't been said a million times before.
3. Reaching Broader Audiences
PushingSocial.com, a site that often doles out excellent articles covering the various facets of blogging, wrote that 40-50% of your time when you first begin to blog should be focused on getting great work published on other outlets. To do this, reach out to other bloggers or publications and try to begin cross-posting. You post for them, they post for you, and, as a result, your, and your partner's, content is exposed to a new audience. A blogging team can more effectively reach out and inquire about possible opportunities to contribute, and can help fine-tune the details so that you don't get hung up trying to make a new blogging relationship work.
Most importantly, remember that blogging is a long-term play and that you, and your team, need to keep at it. Chances are you won't get a bite at first, but as time goes on you'll find that there are plenty of people willing to cross-post.
The first couple of weeks spent blogging will feel a little odd, but trust me when I say you fall into it fairly quickly. However, just like with anything else, it is possible to burn out and not want to deal with any sort of blogging effort at all. Consider, then, hiring a team of writers to help you. Even two or three will make a real difference in what type of content you can generate and how popular your posts will be. The better the posts, the more people that want to read them, and the more people directed to your site!
[latest_posts header="More on Marketing" limit="" category="8″]