What is the Velocity of Your Customer Service?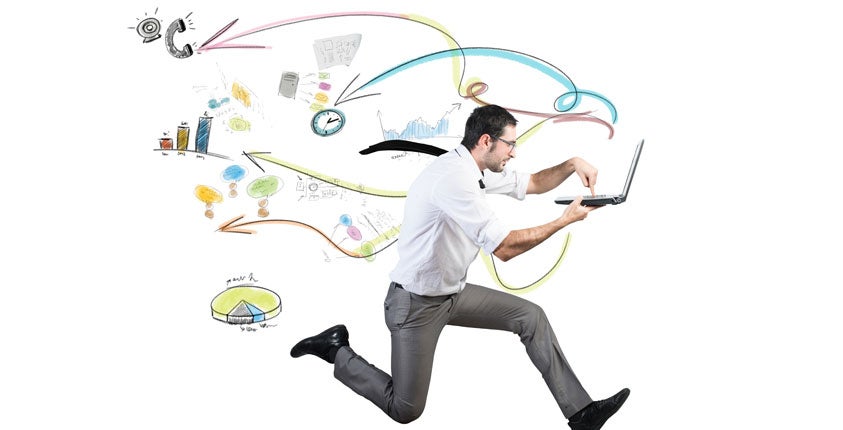 The CEO of Busey Bank, Van Dukeman, has an interesting concept he calls the Velocity of Business. I heard his presentation on the subject of how quickly a business moves when I had the privilege of working with the bank, and I realized the importance of how velocity applies to the customer service experience.
What comes to mind when you hear the word velocity? Fast, powerful, charging ahead, positive motion—velocity is a power word. The Merriam-Webster Dictionary defines velocity as quickness of motion and rapidity of movement, in addition to other more scientific and technical uses of the word.
It's not hard to see how velocity can benefit the customer service experience. Customers want fast service—whether they are waiting in line, calling the customer service center or waiting for an email response. If you are able to provide a rapid response that meets, or exceeds, customers' expectations, velocity goes a long way in creating confidence.
Get help managing customers!
Use the GoSmallBiz CRM.
Learn More
At my company, our goal is to return phone calls and emails the same day they are received – ideally within an hour, or even minutes if a customer is having a problem. Our customers notice our efforts, too. I love it when clients tell me that they are impressed with our quick response time. And, the benefits are apparent – we have been awarded customer service training and speaking contracts based on our fast responses to customers' requests. We strive to "practice what we preach" and follow the same concepts that we teach.
Some other companies really get it too—those same companies whose stated goal is to respond to social media comments within minutes are also generally the ones recognized in surveys and polls for their stellar customer service. On the other hand, I'm stunned that there are companies still waiting 24-48 hours (or more) to respond.
But there exists an even higher level of the concept of speed. The very best companies practice proactive service, aiming to anticipate the customer's needs before the customer even has to ask. A very basic example of this would be the server who refills a diner's water glass before it is empty. Our service includes tracking packages that ship from our office and emailing clients a confirmation to let them know the package has arrived and who signed for it. Often, the client receives our email message before the package makes its way to his or her office.
Create a sense of urgency among your employees. Respond rapidly and proactively anticipate your customers' needs. Velocitize your business. Doing so will create confidence, and ultimately, the ever-coveted loyal customer.
[latest_posts header="More on Customer Service" limit="" category="18″]