[Video] Business Planning: What is a SWOT Analysis?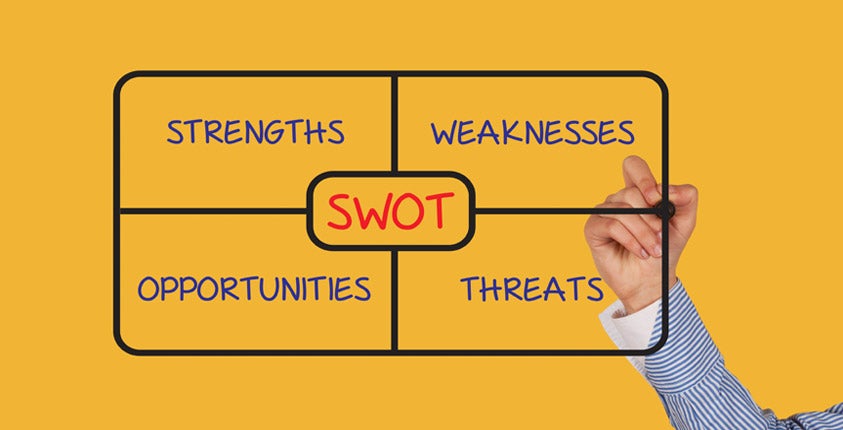 A SWOT Analysis is a business planning tool used to evaluate the chances of success in a project or business venture. The SWOT acronym stands for strengths, weaknesses, opportunities, and threats. Many business plans don't include this section—but that's a mistake.
The SWOT analysis is a key ingredient in a strategic business plan. This is your chance to show that you really have researched what you're doing and understand all of the issues that your business may face.
Strengths
Highlight the real strengths of your company here. Think like a potential investor to address the correct areas and answer the right questions. be as specific as you can here. This is a good place to focus on your management team, explaining why your team is qualified to execute the plan you have in place. Also address areas that you anticipate will be competitive advantages for your business. These may include price, marketing, automation, etc.
Weaknesses
No one likes pointing out areas where there may be flaws, but it is important that you are candid here. In this section, you will establish why you need funding and you should also make clear how you will be using your investors money to mitigate some of these risks. If you don't point out your weaknesses here, investors will assume you don't know about them, and will be less likely to provide capital.
Opportunities
Batting 3rd is the opportunities section of your SWOT analysis. Here, you will use research done in the market analysis to help you identify the opportunities for your product or service. Is there a gap in the market now? Do you have customers who have already purchased your product or are waiting for its release to purchase? Describe that here. Simply telling the story of the market, where it is headed, and what specific customers are willing to pay for this pain point will give potential investors a clear picture of your opportunity.
Threats
The clean up hitter in this equation are threats. There will always be threats. Acknowledge that you understand current threats and show that you have thought about future threats. It's best to be upfront about these threats now so you can show your plan to safeguard your idea against them. If you don't acknowledge these threats, potential investors will see you as very vulnerable – or, worse yet, as not having an understanding of your market.
The goal of the SWOT analysis is to demonstrate that you understand your product, your customers, and your market. A well-written analysis will go a long way towards making potential investors more comfortable when deciding whether or not to invest.
See more in this 2 minute video:
Need help with your business plan?
Use our comprehensive business plan builder!
Learn More
[latest_posts header="More on starting up" limit="" category="9″]