The Right Way to Go into Business with a Partner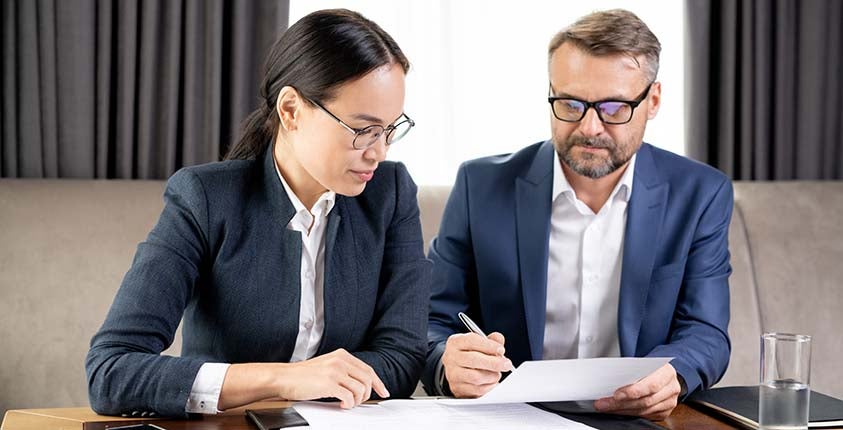 Starting a business up with a partner is a great idea—not only does a business partner effectively halve the staggering amount of work that comes with forming a new company, but having a partner also means having someone to talk to and bounce ideas off of.
For many sole-proprietorships, the only employee on the payroll will be the owner, and being the sole employee can make for a fairly lonely, albeit busy, job. Partners, on the other hand, support one another at a very crucial time in a business's life. However, there is a right, and a wrong, way to go into business with a partner. Follow the wrong path, and what started off as an amicable business relationship could end up dissolving into one filled with blame and bitterness. So if you do decide to go into business with a partner, remember to take the following into account first.
Figure Out What Each Partner Will Be Doing
Most partnerships are built on the different talents of two people. If your partner is a great businessperson and you are an outstanding accountant, it may be implied that you both will continue to utilize your respective talents while running the business. But what if, after a few months, your partner feels as though you aren't as involved as they would like, or you begin to worry about how much your partner is spending? The ensuing conversation could very quickly turn into a shouting match if the roles and responsibilities of each partner weren't discussed and clearly defined before going into business.
If you expect your partner to handle something, make sure they know that, even if it seems like assuming that responsibility without being told to do so would be an obvious course of action. Sit down and talk about these things over dinner, and get a general outline of what each partner is going to do. This will give you a good blueprint to use when creating an actual, written partnership agreement.
Write EVERYTHING Down
A general partnership does not, legally, have to have a written partnership agreement in place. Many are built on basic verbal agreements—two or more people come together, agree to run a business with one another, and, by default, share the debts and the profits of the business.
But operating without a partnership agreement is a recipe for disaster. If one partner decides to walk away, what will happen? Will the other partner inherit all the debt? And what if one of the partners begins to slack off? What recourse is available to the other owner, or owners, of the business? These are the types of questions that need to be answered before your business can be founded. You should also contact an attorney and have them draft the agreement based on your answers, and advise you as to what else you consider. And, when everything is written and agreed on, make sure that attorney is there to witness the agreement's signing.
Find the Right Business Structure
In a general partnership each partner is personally liable for the business's debts, or any lawsuits levied against it. It is a good idea, then, to take the steps necessary to separate a business's debts and liabilities from the lives and responsibilities of the partners. The right business structure will do just that, giving the business partners each a bubble of protection, and ensuring that their personal assets won't be targeted if the business doesn't do well.
Limited Liability Companies are an excellent choice for partnerships because LLCs place the control of the business completely in the hands of the partners, who are referred to as members after LLC formation. You could also form a corporation if you'd like to raise money through selling shares, but corporations require that you give up some control to the shareholders.
Whatever structure you do choose, though, remember to create an operating agreement that is based on the original partnership agreement—otherwise the tenets and rules that the business is run by could be rendered moot. Like a partnership agreement, an operating agreement isn't legally required, but should still be drawn up.
Starting your own business can be a very trying experience, and having a partner to help you along the way will make the entire process much easier. However, a business partner can also create serious problems if the right steps aren't taken before the business's formation. Ensure that each partner knows what will be expected of them, and write down anything and everything that you and your partner, or partners, agree to. Then keep that agreement close to your company and run your business based on it, even if, and when, you choose to forgo the general partnership structure in favor of one that offers more protection, like an LLC. When everything is clearly defined, business partners are able to focus solely on using their talents to build the company, giving it a great start at a very crucial stage of its development.
Originally published by SmallBizClub