Small Business Mythbusters: Direct Deposit vs. Paper Paychecks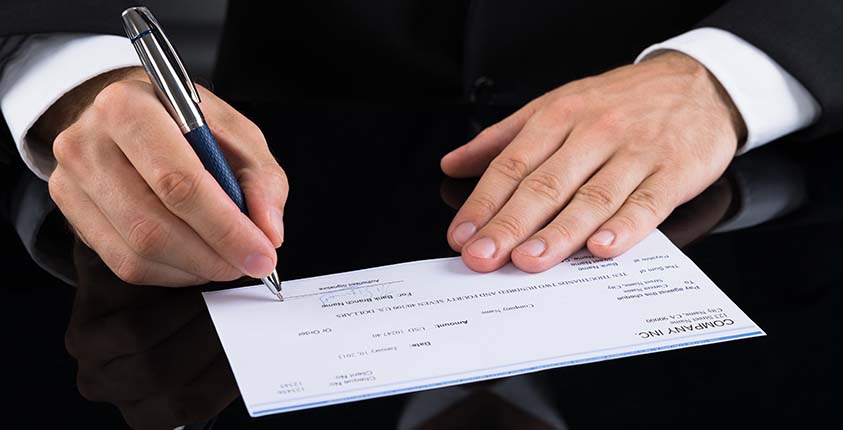 Myth: Paper paychecks are for small businesses; direct deposits are for big companies.
Your business may be small, with just a few employees, but that doesn't mean you can't mimic big companies when it comes to issuing paychecks. If you're still distributing paper checks to your employees, you may want to consider the advantages of switching to the electronic payment model.
Need help managing your team?
Get 2 months free HR and payroll service from ADP.
Get Started Now
What Is Direct Deposit?
Direct deposit is a system by which employers directly funnel funds into an employee's bank account. This is also known as an automated clearing house (ACH) transaction. Companies can also process payroll through payroll cards to employees who don't have bank accounts.
Direct Deposit Has Several Advantages:
Convenience
Consider a four-employee business owned by a husband and wife. It would be easy enough for them to just hand out checks, right? But what happens if the owners travel for business or enjoy an extended vacation? Their employees must still be paid. It would certainly be easier to pay them automatically from afar than to worry about issuing physical checks. The same goes if it's your employee who is away for an extended period of time. With a direct deposit system, no one has to worry about missing a payday.
Reduced Security Risk
Paper checks can be lost, stolen or even counterfeited. For businesses that use industry-recognized security safeguards to help protect personal and other sensitive data, direct deposit funds are more secure. Using this method, business owners can avoid having to take the time or expense to issue new checks when they are lost or deal with cases of fraud involved with theft.
Faster and Easier Bookkeeping
Along with a reduced security risk comes an easier bookkeeping process. When funds are electronically distributed, they are immediately paid to employee accounts. Thus, your books won't be affected by employees who wait several weeks to cash checks. This is not to mention the savings of time and money and reduced paper use when you no longer have to cut and sign a series of paper checks. Your employees can also use an app on their mobile device to view their pay stubs at any time, rather than collecting physical stubs that can be misplaced.
Cost-Effectiveness
The costs for setting up a direct deposit account, as well as related fees, vary by state and financial institution. A white paper from Bank of America says it costs 92 cents more to issue a paper check vs. direct deposit. ElectronicPayments.org, a site sponsored by NACHA – The Electronic Payments Association, estimates small businesses can save as much as $19,000 annually by adopting a direct deposit system.
Joining the Big Leagues
In a survey by National Payroll Week, only 2.8 percent of respondents said they were receiving paper paychecks. Smaller companies are joining larger ones in offering this convenient and cost-effective way of compensating employees. Businesses that do this may still be small, but evolving with the times in this area can make them feel a bit bigger, while offering a convenience employees like.
This blog does not provide legal, financial, accounting, or tax advice. This blog provides practical information on the subject matter. The content on this blog is "as is" and carries no warranties. ADP does not warrant or guarantee the accuracy, reliability, and completeness of the content on this blog.
©2016 ADP, LLC. All Rights Reserved. RUN Powered by ADP® is a registered trademark of ADP, LLC.