Retaliation: What Actions Can Land You in Hot Water?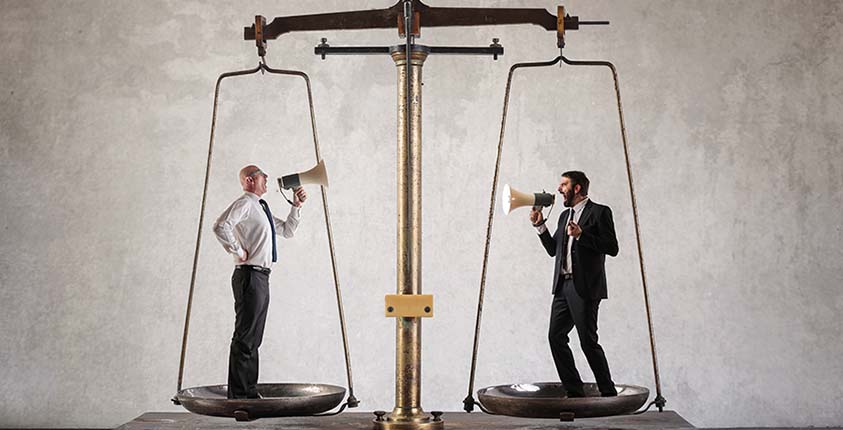 In 2014, 42.8% of the charges filed with the Equal Employment Opportunity Commission (EEOC) included a claim of retaliation, up from 28.6% in 2004. Over the past few years, retaliation has become the most frequently cited EEOC complaint.
What is Retaliation?
Retaliation is when an employer takes an "adverse employment action" against an applicant or employee because he or she engaged in activity that is protected under the law, otherwise known as "protected activity."
Various nondiscrimination laws prohibit retaliation in any term or condition of employment, such as hiring, firing, pay, job assignments, promotions, layoffs, training, and benefits. In addition, there are prohibitions against retaliation for taking job-protected leave, filing workers' compensation claims, and for raising ethical, financial or other concerns unrelated to employment discrimination.
What is an Adverse Employment Action?
An adverse employment action is any action an employer takes that would likely dissuade a person from engaging in protected activity. Adverse employment actions include, but are not limited to:
Termination

Suspension

Refusal to hire

Demotion

Failure to promote

Negative performance evaluations

Reduction of pay or hours

Negative references

Increased surveillance

Disparaging remarks
Threats of adverse action
What Is Protected Activity?
The following are summaries and examples of retaliation and protected activities under various employment laws:
Opposing Discrimination
Under Title VII of the Civil Rights Act (Title VII), and other federal, state, and local nondiscrimination laws, individuals have the right to oppose conduct that they reasonably believe constitutes an unlawful employment practice, such as discrimination. They also have the right to make a charge, testify, or participate in investigations and proceedings related to allegations of discrimination. Engaging in this conduct is generally considered "protected activity."
Examples of retaliation for opposing discrimination:
Transferring an employee to a lower paying position because she filed a sexual harassment complaint
Refusing to consider an applicant because he had filed a discrimination lawsuit against his former employer
Note: Even if an underlying discrimination claim fails, an individual can still prevail on a retaliation claim. For example, if an employee's discrimination claim turns out to be unsubstantiated, the employee can still show that he or she engaged in protected activity. If the employer took an adverse action against the employee as a result, the employer could have engaged in unlawful retaliatory conduct.
Requesting Reasonable Accommodations
The Americans with Disabilities Act (ADA) requires employers to provide reasonable accommodations to qualified applicants and employees with disabilities, unless it would impose an undue hardship. Additionally, Title VII requires employers to provide reasonable accommodations for sincerely held religious beliefs and practices. Many states have similar laws. Requesting a reasonable accommodation under these laws is an example of "protected activity."
Examples of retaliation for requesting a reasonable accommodation:
Refusing to schedule an employee because she requests a reasonable accommodation for her disability
Giving an employee an unfounded negative performance review because she requested a reasonable accommodation for her daily prayers
Taking Job-Protected Leave
Many federal, state, and local laws give employees the right to job-protected leave and prohibit retaliation against employees who exercise their rights to take leave.
Examples of retaliation for taking job-protected leave:
Citing an employee for excessive absenteeism when the absences were protected under a federal, state, or local leave law
Refusing to hire an applicant because he took job-protected leave with a former employer
Suspending an employee for filing a complaint alleging the company violated his leave rights
Reporting Hazardous Work Conditions
Under the Occupational Safety and Health Act and similar state laws, employees have the right to file complaints about hazardous working conditions.
Examples of retaliation for reporting hazardous working conditions:
Reducing an employee's hours after he or she reports unsafe conditions to the company
Threatening to fire an employee for complaining to the Occupational Safety and Health Administration that she wasn't provided with required safety equipment
Working to Improve Wages and Working Conditions
Section 7 of the National Labor Relations Act gives employees, among other things, the right to act together to improve wages and working conditions and to discuss wages, benefits, and other terms and conditions of employment, with or without a union.
Examples of retaliation for working together to improve conditions of employment:
Disciplining an employee because he discussed his wages with co-workers on social media
Firing an employee for filing a complaint with the National Labor Relations Board
Suspending an employee for attending a meeting to discuss joining a union
Best Practices
Various federal, state, and local laws prohibit employers from retaliating against applicants and employees for exercising their rights under the law. Consider these best practices to help ensure compliance and minimize anti-retaliation claims:
Issue clear policy statements. Include anti-retaliation provisions in equal employment opportunity, leave of absence, ethics, anti-harassment, workplace conduct and other policies where appropriate. Encourage employees to come forward with complaints without fear of reprisal and provide a process for employees to report retaliation claims.
Train supervisors. Provide supervisors and HR with training on what types of conduct may constitute retaliation and how to respond if an employee complains of discrimination, harassment, or other unlawful conduct.
Review employment decisions. Carefully review all employment decisions to ensure they are based on legitimate business reasons. Be consistent with how you have handled similar situations in the past and make sure you have appropriate documentation to support all decisions.
This blog does not provide legal, financial, accounting, or tax advice. This blog provides practical information on the subject matter. The content on this blog is "as is" and carries no warranties. ADP does not warrant or guarantee the accuracy, reliability, and completeness of the content on this blog.
©2016 ADP, LLC. All Rights Reserved. RUN Powered by ADP® is a registered trademark of ADP, LLC.