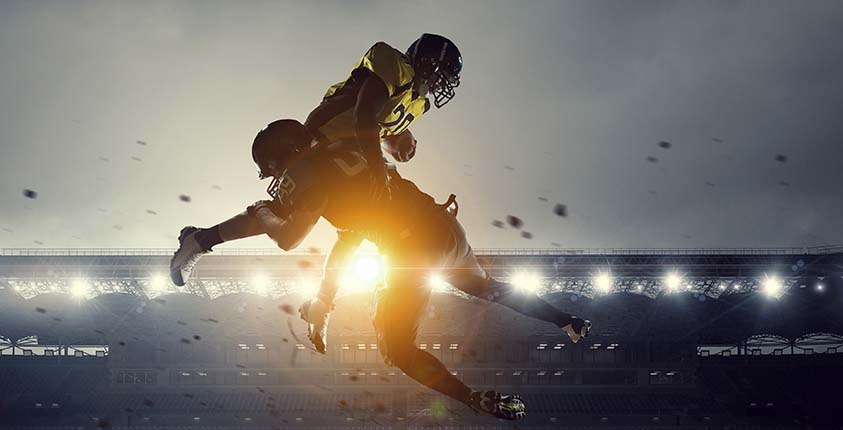 When I was preparing to enter the NFL in 1961, I was 6'0", 185 pounds, and a third-round draft choice. The reason I was taken in the third round was because they didn't think I was good enough to play. If you play quarterback at a big school like the University of Georgia and you're not a first round draft choice, then they think you're missing something: you're not smart enough, you're not big enough, your arm isn't good enough, or you're not quick enough.
After going through training camp with the expansion Minnesota Vikings, I played in our preseason games, and we lost every game. Badly. In our fourth exhibition game, we played the Chicago Bears and they won 30-7. I played about half the game, and they overwhelmed me. I couldn't do anything. On an expansion team, our whole team was a bunch of misfits (or they wouldn't have been made available in the expansion draft in the first place).
At that time, every quarterback in the NFL was a pocket passer. No one ran, no one scrambled out of the pocket. When I played high school football, I was not a runner. When I played college football, I was not a runner. Nobody called me a scrambler, a runner, or anything. I stood in the pocket just like every other quarterback. So that's how I played that preseason, and it was disastrous. Playing against the Bears, they bloodied me. I stood in the pocket and they overwhelmed our offensive line and I didn't have any time to throw.
I didn't sleep well that night. I thought to myself, "I have to change the way I play." I could not use the excuse that my line was bunch of expansion linemen. Excuses won't complete passes, score touchdowns, or win games. I realized, for me to be able to complete passes, I would have to get out of the pocket. I would have to scramble. I would have to run and buy time. It wasn't that I wanted to gain yards by running, but I wanted to buy time so I could throw and complete a pass.
Conveniently enough, our first regular season game in 1961 was against those same Chicago Bears. I didn't start the game, but I entered the game early on in relief of George Shaw and tried out my new playing style. I scrambled. I ran from one side of the field to the other buying time to find an open man—and threw 4 touchdown passes and ran for another, as we pulled off one of the biggest upsets imaginable, a 37-13 victory over the iconic Chicago Bears in our franchise's first game ever.
Everyone in professional football was aghast. That was not how you were supposed to play quarterback! And that's why I became known as the scrambler, because I was the first person to be that type of mobile quarterback. It wasn't how I learned to play going through high school and college, but it was born out of necessity. I adapted to my situation. I didn't throw up my hands and say, "This is hopeless! We're not supposed to win any games this year, so I guess we'll just go out there and keep doing the same old things every game." We were 28-point underdogs against the Bears, but I adapted to the environment, to our situation. If I just stayed in the pocket, I was going to get sacked. I couldn't throw. If I couldn't throw, the receivers couldn't catch. If the receivers couldn't catch, how were we going to score points? So I scrambled.
It's pretty simple, isn't it? Rather than look for excuses, look for creative and innovative ways to be able to get your job done. I've brought that same mentality into my businesses, and it still works. I want to do whatever I can to move us forward, to find something that works. Every business I've ever run has encountered an obstacle somewhere along the way, if not many, large and small. Those obstacles disrupt your initial plan, the way you expected to do things. That's when you have a choice: you can keep doing what you were doing and keep running into that obstacle over and over; you can give up and make excuses; or you can find another way. You can choose to scramble.