Press Release: Peach State Federal Credit Union and GoSmallBiz Partner to Offer Small Business Services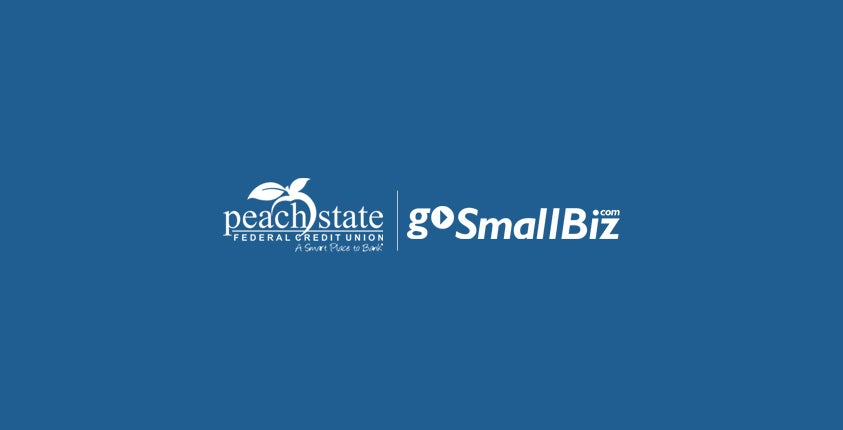 A new partnership between Peach State Federal Credit Union and GoSmallBiz.com will help provide small business owners better access to a wide range of small business services.
Peach State President and CEO Marshall Boutwell and GoSmallBiz Founder and CEO Fran Tarkenton announced the partnership, which will offer GoSmallBiz.com services to Peach State members at special discounted rates.
"We are committed to helping our local business communities grow and succeed," Boutwell says. "Fran and his team at GoSmallBiz have done a great job of helping people start and run businesses, and we're excited about how this will help our members and our local business communities."
GoSmallBiz.com was founded by NFL Hall of Famer and businessman Fran Tarkenton in 1996, offering a wide range of services including online consultation, business software, and business education.
"I've been building businesses all my life, and for almost 20 years my team and I have been focused on helping other small business owners succeed," Tarkenton says. "I believe the mission of business is to help people. That's what we do at GoSmallBiz.com, and Peach State Federal Credit Union is a great partner who shares our passion for helping small business owners and local businesses."
Peach State will offer the GoSmallBiz Business Accelerator program, which features unlimited business consultation, tools, courses, and weekly business mentoring with Tarkenton and special guests, all delivered through an online portal. Other services include incorporation, website development and design, custom design and branding, and business planning software. Peach State will also offer its members enrollment in the Tarkenton Certificate in Entrepreneurship program, an entrepreneurial education program from Tarkenton and the University of Georgia's Terry College of Business.
"This is an exciting time to start a business," says Tarkenton. "We're always looking for new ways to serve our small business community and reach not only today's small business owners, but also the people who want to start a business. The more support and resources these new entrepreneurs have, the better chance they have of succeeding."
The partnership represents the first-ever offering through credit unions for GoSmallBiz. "This is the perfect place for our small business market," says Tarkenton. "Credit unions are where small business owners ought to be. Small businesses and credit unions are a great fit, and this is a great opportunity for us to better reach and serve them."
Learn more at http://psfcu.gosmallbiz.com.
[latest_posts header="More Recent Updates" limit="" category="20″]