New Hire Paperwork and Other Recordkeeping Requirements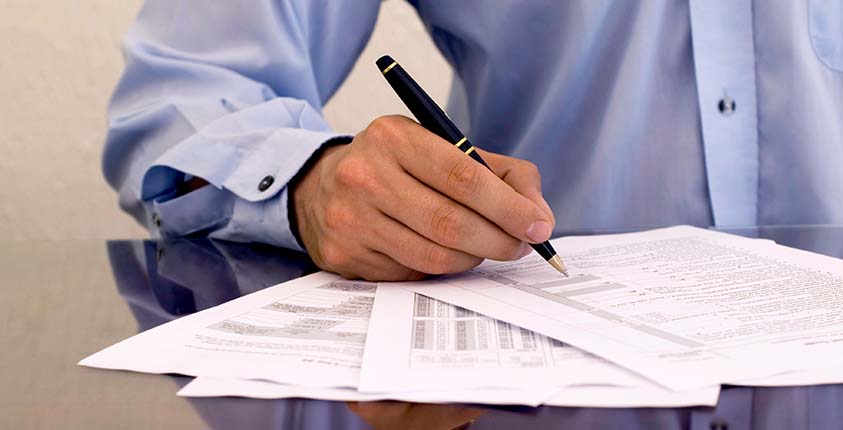 When running a business, recordkeeping responsibilities can pile up quickly. Often these responsibilities begin even before you hire a new employee—and in many cases continue after the employee leaves your company. Knowing what to keep and for how long can be confusing. Here we address FAQs from our recent webcast on employee recordkeeping.
New Hire Paperwork
Q: What paperwork must I complete for a new hire?
A: For each new hire, employers must complete, or provide the employee with, the following paperwork:
Form I-9. Each new hire must complete an I-9 to verify that he or she is authorized to work in the United States.
Form W-4. All new hires must complete a W-4 to determine the amount of federal income tax to withhold from the employee's wages. Some states also require a tax withholding form.
Notice of Coverage Options. Under the Affordable Care Act (ACA), employers must provide a Notice of Coverage Options to all new hires. This requirement applies even if the employer doesn't offer health insurance and/or the employee is not eligible for health insurance.
State and local notices. Many states and local jurisdictions also require that employers provide specific notices to employees at the time of hire. For example, California requires employers to provide new hires with notices related to state disability insurance, paid family leave, workers' compensation, and other laws. Provide new hire notices in accordance with your state and local requirements.
Note: These forms are available for download in the State & Federal Resources section of HR411.
Q: Do I have to complete new hire paperwork again when I rehire an employee? What about seasonal employees?
A: The answer typically depends on the record involved, whether the employment is considered continuing, and the amount of time that elapses between work periods. For example, for the I-9 Form, bona fide seasonal employees (those with a reasonable expectation of continued employment) don't have to complete a new I-9 each time they return to work. However, if the employer terminates an employee and then rehires him or her more than three years after completing the I-9, a new I-9 must be completed.
Q: We have several employees who never filled out new hire paperwork. Should we go back and have them fill it out now?
A: Yes, you should go back and complete the required forms as soon as possible, but consider consulting legal counsel. For forms that require you to enter a completion date, such as the I-9 Form, enter the date you actually complete the form and avoid backdating it.
Q: My company is very small—do these recordkeeping responsibilities apply to me? / I run a non-profit—do these rules also apply to me?
A: Yes. These new hire paperwork responsibilities still apply to you, regardless of size or whether you are a for-profit or not-for-profit company. However, other laws governing recordkeeping may apply to employers of a certain size. Check applicable laws to ensure compliance.
Electronic Storage
Q: I am considering switching to electronic record retention. What are the benefits?
A: Electronic documents can be easier and cheaper to store, organize, and back up. Additionally, in many cases, electronic records can be accessed from any secure network and easily produced when needed. An effective electronic system, with the appropriate security controls, can also make it easier to restrict and track who accesses files and when.
Q: Can I keep employee records in a free cloud-based application?
A: Whatever electronic system you choose, ensure that controls are in place to protect the integrity and security of the records. Among other things, the system should require strong passwords and employ other security measures to authenticate users and prevent unauthorized access. Software should be in place to control and log when records are accessed and by whom. Also, ensure that the application you use can properly erase files at the end of their retention period (so that they cannot be reconstructed). If the system you are considering is unable to do these things effectively, then you should consider other options.
Q: Are there certain records I should keep in paper form as a backup?
A: Absent specific requirements, you should identify which records can be accurately transferred to an electronic system. You'll want to retain hard copies of any records that can't be stored electronically. Some employers also choose to keep a paper file of critical documents as a backup.
Retention Periods
Q: Is there any reason to retain terminated employee records past the required length of time?
A: Recordkeeping laws set minimum retention periods, and some of these extend well beyond termination. Once the retention period ends, employers are generally free to properly dispose of the records, unless there is a pending claim involving the former employee. In this case, the employer must generally retain relevant records until the final disposition of the case.
Q: Is it necessary to keep all candidate applications and if so, for how long?
A: Generally, you must retain applications, resumes, interview notes, and other records related to each non-hire for at least one year following your hiring decision. For the individual you hire, store his or her application and other pre-hire records in their personnel or separate confidential file. Your state law may require a longer retention period. Additionally, if you are a federal contractor, you may be subject to different requirements.
Q: Can you supply a list of everything that should be kept and for how long?
A: Check federal, state, and local recordkeeping laws to ensure compliance. For additional guidance, contact our HR HelpDesk, see the HR411 Recordkeeping Toolkit, or access the HR411 Compliance Database for state specific record retention requirements.
Disciplinary Records
Q: I know I am supposed to keep disciplinary records. Should I also keep a record of "verbal warnings?"
A: Yes. Whenever an oral warning is given to an employee, you should document that a discussion took place. The employee's supervisor should prepare a brief report summarizing the problem, the discussion they had with the employee, and next steps. Store this documentation in the employee's personnel file.
Q: Our company policy is to have employees sign their discipline records before storing in their personnel file. What should I do if an employee refuses to sign?
A: Many times employees refuse to sign because they misunderstand what their signature means. Explain to the employee that it only indicates receipt, not that they necessarily agree with the documentation. If the employee still refuses to sign, indicate that on the form and sign and date it. You can also provide the employee with an opportunity to write down their comments and attach it to the form.
Privacy
Q: Should medical forms and I-9 forms be kept separate from the employee's personnel file? If so, why? Does this mean a separate folder or a separate file cabinet entirely?
A: Yes, medical files must be kept separate from personnel files since they include sensitive information (such as information concerning an employee's disability or other protected characteristics) that should only be accessible by those with a need to know. Additionally, it is a best practice to store I-9 Forms together in one file, separate from personnel files, so that they can be produced promptly following a government request. Medical and confidential files should be kept in a separate locked cabinet, or in a separate secure file if stored electronically.
Q: Should garnishment orders be kept separate from an employee's personnel file?
Garnishment orders (and other legal documents) should also be kept separate from an employee's personnel file. As with medical and other confidential forms, garnishment orders may contain sensitive information (such as marital or financial status). In addition, garnishment orders cannot be used to influence an employment decision and therefore should be kept in a confidential folder separate from the personnel file.
This blog does not provide legal, financial, accounting, or tax advice. This blog provides practical information on the subject matter. The content on this blog is "as is" and carries no warranties. ADP does not warrant or guarantee the accuracy, reliability, and completeness of the content on this blog.
©2016 ADP, LLC. All Rights Reserved. RUN Powered by ADP® is a registered trademark of ADP, LLC.
This article was originally published by ADP