Leadership Lessons: John F. Kennedy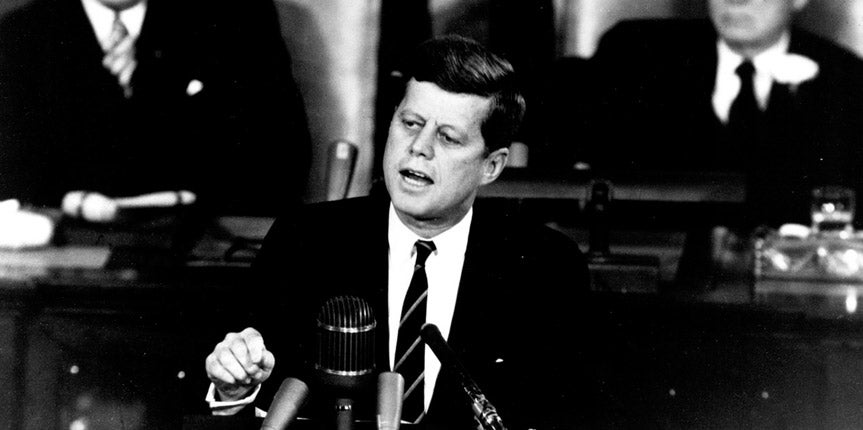 What is a leader? Do a quick Google search and you'll see that the word leader is defined as "the person who leads or commands a group, organization, or country." Synonyms are chief, head, principle, etc. Is this right? Is this all a leader is? Someone who is in charge? I take issue with this definition.
To me, what is being defined above is a manager or an overseer – someone who is just there at the top. To be a leader, you have to inspire. I like Dwight D. Eisenhower's definition, "Leadership is the art of getting someone else to do something you want done because he wants to do it." A leader has the ability to change minds, to make others want to do something, and to unite everyone on a team to work towards a common goal.
Great leaders transcend their environment and leave lessons that can be applied across multiple disciplines. Today, 50 years after the assassination of President John F. Kennedy, we look back on some of the lessons he left us through three of his most famous.
"Things do not happen. Things are made to happen."
In order to get something done, you have to get something done. You can plan all you'd like, but if you don't actually do it, what is it worth? As we grow and progress in business, we cannot forget the importance of planning and the necessity to know in which direction we're going. Even more importantly, though, we have to remember that the biggest part of making progress is, well… making progress. You have to make things happen.
"Change is the law of life. And those who look only to the past or present are certain to miss the future."
The only thing that is inevitable in business is change. Like death and taxes (at least for most of us), it is something that we will all have to deal with. As entrepreneurs, we have to be cognizant of the future and recognize the past, but we also have to stay in the moment to see what is going on in real time. The decisions made today will shape the ones required in the future.
"Ask not what your country can do for you, ask what you can do for your country."
As you make decisions for your business or your career, you have to keep in mind the goal and really examine who is benefitting. Like Herb Brooks said, the name on the front of the sweater is a hell of a lot more important than the name on the back.
Is this decision in the best interest of your company? Will your business or employees improve because of what you are doing? Your job as a leader is to provide the best chance you can so that others can succeed. A great leader will elevate those around him.
What are some of your favorite quotes on leadership?