It's Not Too Late to Spring Clean Your Business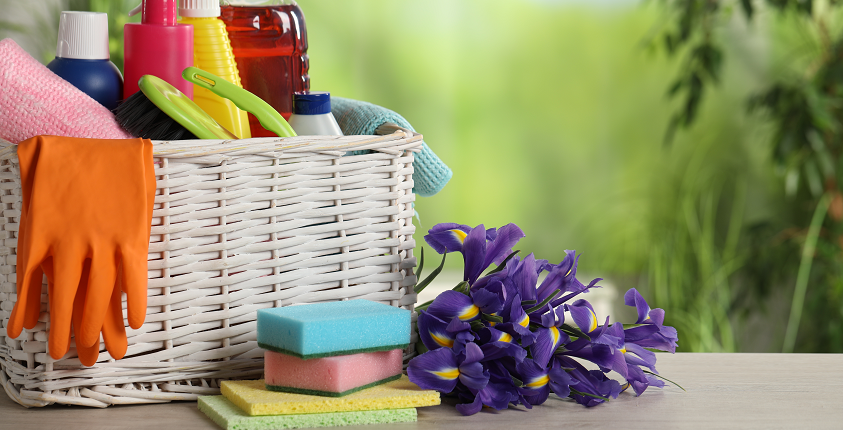 Spring provides a great opportunity to analyze and reassess all aspects of your business to ensure better outcomes for the remainder of the fiscal year. Consider which areas need to be reined in. Not only is this a time for a hard look at your financials and internal structures, but it's also a great time to re-examine the client-facing side of your business. Call it a "Spring Cleaning" if you will. This allows you to go into the rest of the year on stable ground, knowing that there are no loose ends. Not sure where to start? Here are 5 ways to "clean up" this season:
Get organized with tech
Paper files have their place but can get disorganized quickly; not all file types need to be backed with paper copies. Go paperless where you can. Software can keep you streamlined, organized, and modernized for the digital world. Below are some key areas where you should utilize tech to improve logistics and efficiency:
Consider keeping your passwords secured with password protection software like LastPass and Dashlane. Keeping this type of data secure is vital to help protect your business from data leaks. Other platforms, such as Microsoft Authenticator, allow for additional security measures to access programs where private data is housed.
Make file storage easier. Even when you do have paper copies, it's always good to keep data backed up on the cloud or on external hard drives. Open a cloud storage account to keep digital files easy to access. For shared files that employees access or reference regularly, use platforms such as Google Drive and OneDrive; these platforms allow you to create folders to organize company information. Additionally, you can choose who to share access with on these platforms. For more sensitive data, add extra security protection to gain access, whether that is password / passcode access or facial recognition. Microsoft Authenticator can sync with a variety of platforms to add those additional security measures.
Use platforms like Microsoft Teams, Zoom, and Calendly to share calendars and meeting information with team members; many of these platforms allow for real time sharing, syncing, and viewing.
Think about using a CRM (Client Relationship Management platform). How are you maintaining your client contact information? Not being well organized in this area can cost you both current and potential customers. Already using a CRM? Clean it up and consider switching to one that is integrated with email marketing software to promote campaigns and drive traffic to your business.
Reassess your staff
This can be a time for restructuring, providing opportunities, and additional training and development. This is also a time to consider evaluating your staff; where are their areas for improvement and growth? Do they need additional training to reach optimal performance?
New training and development measures allow staff to increase as well as refresh skillsets, which in turn provides pathways for new opportunities from within the organization. Think about creating a shared digital folder for additional resources that your staff can utilize for new learning opportunities.
Do you have policies in place that provide time for your staff to dedicate themselves to developing new skillsets? Consider adding training and development days for staff members to take. Allotting a day per quarter for learning and development shows your staff that you are invested in their growth.
Define positions. When you optimize and utilize your staff's unique skillsets, you also pave the way for new positions to be forged within the organization. This makes it quicker to assess what roles and responsibilities need to be filled by potential new hires.
Clean up client facing sides
How your business is presented to the public is immensely important. If customer facing areas appear disorganized, then other assumptions can naturally follow. Focus on improving the customer experience by enhancing all client facing features.
Have a brick-and-mortar location? Perhaps you need to re-organize and redesign your space—not simply to "change things up," but also to utilize marketing strategies for better designs, layouts, and placement of products. Customers shop with their eyes, so it's often important to reconsider not only where products are placed, but how comfortable and convenient it is for the customer to navigate your business.
Clean up your digital spaces. Does your website need a makeover? Take a look at your social media accounts; do you need to create new content, bring in better design, build strategies to get more followers? Are you represented well on social media platforms?
Does your business have digital platforms in place to make it convenient for customers to book appointments, request assistance, make orders, and access information related to your products and services? You can go as high tech as developing an App for your business, or simply utilize popular platforms and integrations on your website and socials to make it easier for clients to digitally interact. Ensure that your company has a Google Business Profile, which makes it easy for the public to locate your business information.
Physically clean!
Previous points have focused primarily on the idea of staying organized, but it's important not to forget the literal meaning of the term "Spring Clean." Keep your business clean—for yourself, your staff, and your customers. Simply having a tidy environment does wonders for the perception of your business.
Create a staff policy to keep spaces clean and hygienic. If you have a physical business location, it's vital to have an organized system and policy to keep your spaces sanitized, well-presented, and organized.
Delegating tasks to staff members or hiring a 3rd party to do the job are both viable options. Ensure that your employees keep clean workspaces and look after shared spaces such as break rooms and kitchens. Although keeping spaces orderly and hygienic seems like common sense, it's essential to put staff policies in place to hold everyone accountable.
Ensure that you are not only keeping your business safe and healthy for staff and clients, but also guarantee that you are always meeting your state and industry standards in health and safety. Health and safety laws can vary greatly by industry and location. Check your local state and county regulations to guarantee compliance.
Re-examine your financials
This is a time to assess your capital—both coming in and leaving the business. What unnecessary expenses can you eliminate? Create strategies that drive more income. Not sure how to start? Consider the following ways stay on top of finances and increase capital:
Look for new opportunities. This could be in the form of potential partnerships, new marketing techniques, or in the development of new products or services. Increasing revenue this way allows you to create more long-term strategies for continued growth.
Take a hard look at your budget and expenses, and you will often discover things that can be consolidated or removed. Use more sophisticated budgeting software with advanced tools integrated to keep you on top of tracking and forecasting. Some great platforms for business financials are PlanGuru and Quickbooks. While some platforms are built for more in-depth analyses, others are great to get you started if you are looking to begin by creating quick budget reports. Analyzing financials in the first half of the year will provide you with the security you need for the remainder of the fiscal year.
Cleaning up and revamping these key areas of your business is necessary for upkeep. Yearly assessments and adjustments allow you peace of mind and keep your business modern and competitive. We're here to help you in the process of maintaining order! Our bundles and standalone services can offer your business the support it needs to stay organized. Get started today!