How to Respond to Customer Reviews Online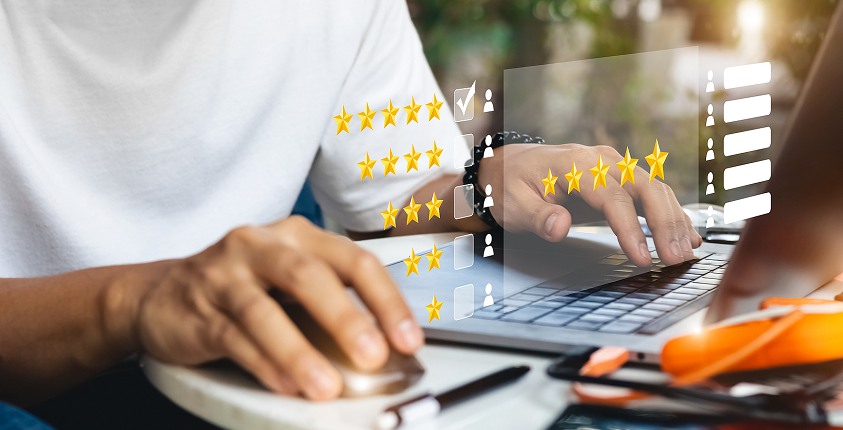 Reputation matters. In today's digital age, you want to put the best version of yourself out there, and you have a lot of control over your public image. You put in the effort of perfectly curating your social profiles to show the world how you want to be seen.  
The same goes for your business. You want the best image of your business presented to the public, and online presence matters more now than ever. If you have a traditional brick and mortar business, your address and hours of operation need to be accessible to the public via search engines, and your website should be easy to find.
Your customer reviews are another key part of that online image.
Customer reviews demonstrate customer engagement and public awareness of your business. Not having reviews online and accessible can be more detrimental than having a couple negative reviews here and there. Consider your own habits when searching for a business: are you likely to visit a business with no online reviews to be found? In a  customer review trends survey of 2022, 60% of respondents stated that the number of online reviews was a determining factor when deciding which local business to use.
The most effective way to immediately gain an online presence is to set up your Google Business Profile. Once you have claimed your profile, it's time to begin engaging with your customers and responding to their reviews.
4 Tips for Responding to Online Reviews
But how should you respond to customer reviews? Here are some general guidelines to adhere to when actively engaging with your customers online: 
Respond to the Positive and the Negative. You instinctively want to protect your business when a less than perfect review comes in. It's vital to respond to those reviews, but it's necessary to respond to positive reviews, as well. Engaging with your customers online and showing your gratitude goes a long way in establishing customer loyalty. This type of interaction with customers online is attractive to both current and potential customers. 
Be Prompt. Sometimes you need to gather your thoughts before impulsively responding to a negative review in anger—and you should take that time. But don't take too long to act. Responding in a timely manner shows that you care and that you want to make things right straightaway. In a 2022 customer review survey, 89% of respondents stated that they would 'likely' or 'highly likely' use a business that responds to customer reviews. It's important to note that the public can see not only the date of the review, but the date of the response as well. Responding to a review months later shows an overall lack of interest in customer engagement. Responding quickly to both positive and negative reviews shows that you are active, invested, and involved.  
Show Empathy and Analyze the Situation. It's hard not to take a negative review personally; it can feel very personal depending on the circumstances. You must understand that the customer is sharing the experience they had with your business. This doesn't reflect your business as a whole or how you routinely operate. It's important to remain professional and apologize for anything that was your responsibility.   
As the owner of the business, you should use this as an opportunity for self-reflection. Ask yourself the following questions:
Was the negative review a reflection of your product or service?
Could this experience have been prevented by you or a staff member at the time of the situation?
What steps do you need to take now to rectify this with the customer?
It's important to analyze the situation in order to see the bigger picture. Is this a one-off situation, or are there multiple customers making the same comments? All businesses receive some negative reviews—so long as people have opinions, they will share them. You can't please everyone 100% of the time. Responding with kindness and professionalism is a surefire way to maintain a favorable public image. 
Please note, you can't get negative Google Reviews removed, but you can ensure that those reviews are in accordance with Google's guidelines. If a review contains restricted content, you can request to have it removed. Click here to report any content that violates policy. You can see all restricted content here.
Continue the conversation. Follow up with the customer to show that you care about their experience. This can be done via email or by making a courtesy call. Going the extra mile to make things right shows that you're not all about appearances and that your customer support goes beyond the transaction. This is also an opportunity to receive additional constructive feedback that may aid in preventing future negative reviews.  
Responding to your customer reviews is important, and one of the most important places where people will look for reviews is on your Google Business Profile. It will pop up when people search for your business or even if they are making a relevant search in your area. Our Google experts can create a profile for your business or optimize your existing profile, all included in our Grow Bundle. Give your business the online exposure it needs to thrive. Click here to learn more and get started!