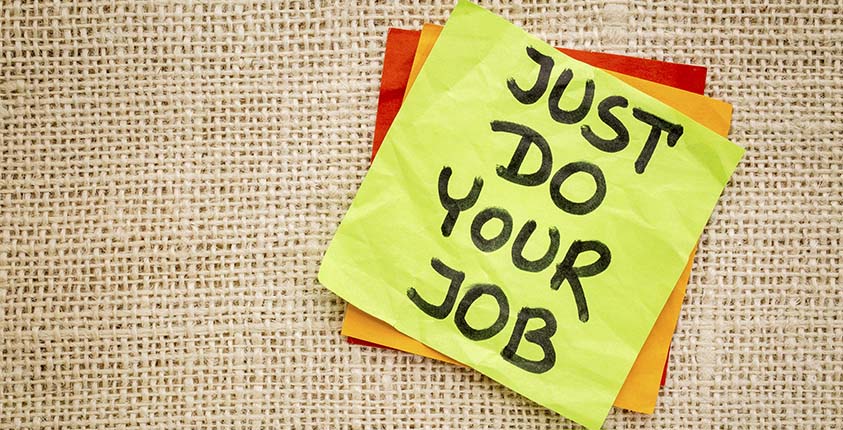 The New England Patriots have been the most successful football team of the 21st century. This Sunday they are playing in their 7th Super Bowl in the past 16 years, all with head coach Bill Belichick and Tom Brady at quarterback.
The source of the team's incredible success can be summed up in a simple three-word mantra: Do Your Job.
"Do Your Job" has been a constant theme for the Patriots for years. When NFL Films created a documentary about their most recent Super Bowl win, the title was "Do Your Job: Bill Belichick and the 2014 Patriots."
While the phrase "Do Your Job" is linked closely to Belichick, whenever you listen to other great coaches, championship leaders, you will hear a lot of the same ideas. My friend Nick Saban, the head coach of the Alabama football team, talks about "The Process." He has won 5 National Championships and has his team in contention every single year—an impossible thing to do.
The Patriots' opponent in the Super Bowl this year is the Atlanta Falcons, led by Dan Quinn. Quinn has taken a forlorn franchise to the Super Bowl in just his second year, after the team had only made it once in its first 50 years. And he has a mantra of his own that he imparts on each and every player: "Brotherhood." His players all talk about how they are in it for each other, and how their play impacts everyone else at all times.
They all use different words, but they're talking about the same thing: every single person on the team, from the superstars down to the last man on the roster to the equipment managers to the ball boys, has to do the right thing every day, at every practice, on every play. Their success doesn't come from having the most highly recruited or highly drafted players. It's not star-driven. It comes from a culture where everyone is a great teammate and does all the things they need to do to compete at the highest level. Everyone is accountable to everyone else for their training, personal conduct, working on their skill level, going through all those processes and doing them every day.
That's how Alabama wins championships again and again despite losing stars to the NFL Draft every year. It's how the Patriots keep making the Super Bowl no matter what players they lose to trades, free agency, or injury. It's how the Falcons turned around their team so quickly and have reached the Super Bowl just two years into the Dan Quinn era.
As I listen to these leaders and think about my businesses, I see that the same principles apply. You have to get things done, and to do that you have to have a process. There is no instant gratification in business one way or another; we do something, and then we have to wait to see what happens. It takes a lot of discipline to get things done, to make things happen consistently.
The way we achieve that is to create a culture of love and respect for one another, and of processes for all doing our job and doing it well. When every person on your team is tasked with knowing their job and doing it well, whether you are a salesman, a secretary, an accountant, a construction worker, a lawyer, or anything else, then it gives you the best chance of success.
It boils down to two steps:
Know Your Job
Do Your Job
For the team to win, every person has to know their functionality in the team. If there is a weak link in the chain, if someone doesn't know what they are supposed to be doing, then it creates problems. Whether your company has 1 employee, 10 employees, or 100 employees. So first you have to define your job. If you don't know what your job is, you won't be very good at getting things done. What role do you play, as a boss or employee? And then you have to have each other's backs. Like Dan Quinn says, it's a Brotherhood (or Sisterhood, as it may be!).
Once you've identified your job, then it boils down to doing just like Belichick says: "Do Your Job." Identify the processes, the things you have to do every day that will help you succeed—and do them! Whatever your specific role is, you have to be the best person in that role that you can be. Knowing your job gets everybody pointed in the right direction. And when all those people do their job, they're all pulling at the same time in the same direction, and great things can happen.
Want to grow your business?
Become a GoSmallBiz member today!
Get Started Now