DECA: Educating Future Entrepreneurs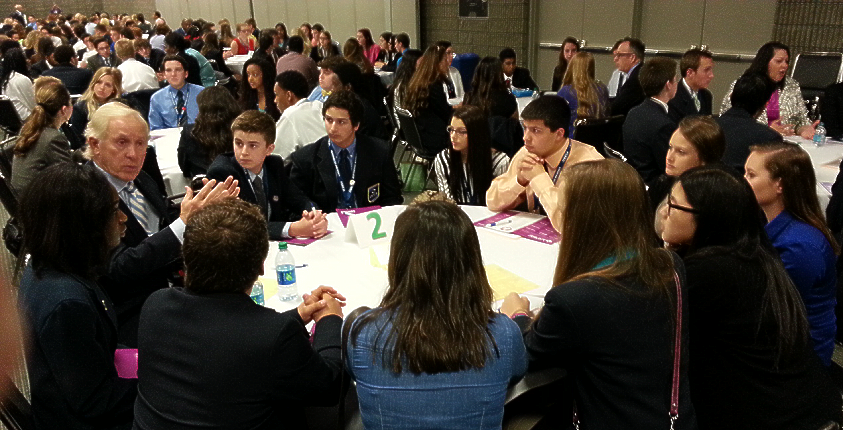 One of the best-kept secrets in the world of entrepreneurship is DECA, an organization for high school and college students looking to learn about business and leadership. They have been around for more than 60 years, and have more than 200,000 members all over America, Canada, and other countries around the world. DECA is a great opportunity for getting young people excited about entrepreneurship!
Over the past few months, I've been learning more and more about DECA and the things they do to promote and support young entrepreneurs. They offer for-credit courses in business entrepreneurship, helping prepare people to become entrepreneurs or to be more effective workers and real leaders in their companies. They also have an annual conference, ICDC—held in Atlanta this year, bringing in 16,000 people to do projects, compete for entrepreneurship awards, and just learn more about business.
This year, DECA honored me with their Entrepreneurial Spirit Award, and I had the privilege of being the keynote speaker at the opening session Saturday night. I was at the Georgia Dome with 16,000 students—can you imagine how wonderful it is to see 16,000 kids getting excited about entrepreneurship? It was stunning. Then on Sunday I led a group of 60 mentors, business people from around the country, and we met in rotating groups with 600 of the top student leaders in DECA for three hours.
It was an unbelievable experience. These students are savvy, smart, curious, and immersed in business. They are the true representation of the entrepreneurial spirit! They're going to the Harvards of the world, they're going to state schools, they're going to community colleges. Simply put, they are covering the whole range, and will make a big statement for entrepreneurship all over the country. The students I met this weekend are hungry for knowledge about business; they're curious; they are asking questions. That is the recipe for success!
When I met with Bill Aulet, the director of the Martin Trust Center for MIT Entrepreneurship, I asked him whether he thinks we can teach people to be entrepreneurs. Yes, he told me—but he added that we've been doing a lousy job of it so far. It doesn't come from a book, but from experience and from learning by trying things, and learning from our mistakes and our failures.
Organizations like DECA are working to improve entrepreneurship education, and the students at this year's conference are proof that it's working. I often talk about how important age 50+ entrepreneurs are; according to the Kauffman Foundation, that's the fastest-growing group of entrepreneurs in this country. But we should never forget about our younger entrepreneurs! With a combination of curiosity, grit, and creativity, this upcoming generation can and will change the world.
I hope they stay curious. Keep asking questions. Never stop learning. Every night, ask, "What did I learn today?" Get smarter every day. That's the key to solving problems, to creating a great customer experience, and to finding a purpose for your life and business. I can't wait to see what these students do.