Customer Service Apology is Stronger with a Personal Touch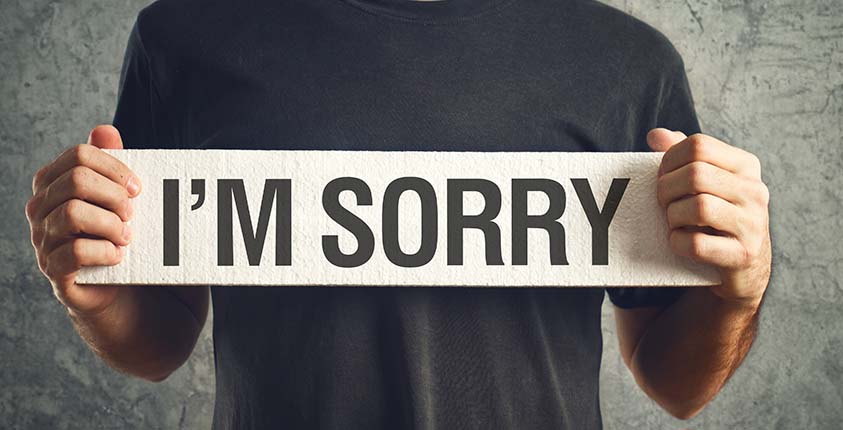 Every so often at the office we order lunch "to go" from First Watch, a restaurant that is open for breakfast and lunch. It serves up both delicious food and great service. But, as you know, even a great company can make mistakes, and unfortunately, twice in one week my lunch order was wrong.
The first time it happened, I just let it go. But two days later, it happened again. Despite the fact that the restaurant employee repeated the order back to us over the phone to make sure it was right, once again I received the wrong item.
After the second incident, we did call to let them know about the orders being wrong. We were directed to talk to the manager, Wes Ackerman.
Did Wes get defensive? Try to make excuses? Nah, he knew exactly what to do.
First, he apologized. He offered to replace the meal immediately, but at that point we didn't want to travel back to the restaurant to pick it up. He asked for our address, and we assumed that in a few days we might see a gift card arriving in the mail to make up for the mistakes.
However, later that day, Wes himself showed up at our office. He again apologized and presented us with a gift card to replace the two meals at a later date.
This was Amazing customer service in action.
From the beginning of the interaction, Wes did the right things. During the phone conversation, he sincerely apologized. He accepted responsibility for the mistake, even though he didn't personally take the order or prepare the food. He was accountable.
Next, he offered a solution to correct the problem: replacing the meal. But since we didn't want to drive back to the restaurant at that time, he still worked to make it right by offering a gift card to cover the cost of the two meals. (By the way, gift cards are always a good solution—the customer has to return to the restaurant to use them.)
So far, so good, and many companies may have stopped there. But Wes took it a step further. He went beyond standard operating procedure and added the personal touch.
Wes drove to our office to apologize and deliver the gift card in person.
The personal touch can make all the difference. It is often unexpected, and always appreciated. You may not be able to drive to a customer's office to personally apologize, but you can write a personal thank you note. Or make a phone call to soothe a customer's concerns or offer a needed apology. The power of the personal touch should not be underestimated. Customers know that it is going above and beyond the usual way of doing business.
When the inevitable time comes in your business that you need to make an apology, make it better by adding a personal touch. The customer will take notice and it will go a long way in restoring confidence and respect for you and your company.
This article was originally published by SmallBizClub