53% of People Lie on Resumes — Including Brian Williams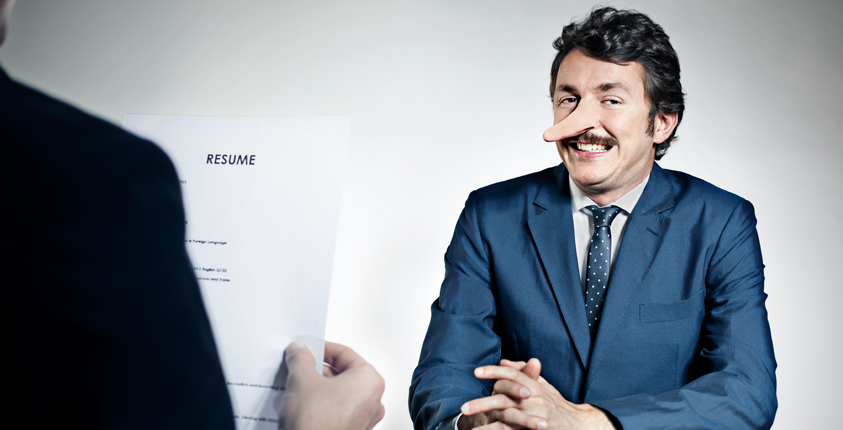 This will be my 4th year working at Tarkenton Companies and GoSmallBiz.com, but you probably knew me before then—even if you didn't realize it. Let's look at some of the highlights from my resume:
2003: After forgoing college and deciding to enter the NBA draft, I was taken 1st overall by the Cleveland Cavaliers. After leading that franchise to its first-ever NBA Finals appearance, I decided to "take my talents to South Beach" and went to Miami… oh, that's Lebron James? Well, we're the same age (sigh). I guess I misremembered.
OK, well even without that one, my resume is still pretty impressive. Here's another highlight showing my "techy" side.
2004: Slaving away in my Harvard dorm room with some friends, I created what would become the world's largest social network with over 1 billion total users. In 2013, they even made a movie about my accomplishments called The Social Network… oh, that's Mark Zuckerberg? Fine, you caught me.
My point? Brian Williams and I are certainly not the first people to "misremember" on our resumes. In fact, a 2012 study by Accu-screen, ADP, and the Society of Human Resource Management found that as many as 53% of resumes and job applications contain "falsehoods" (that's a euphemism for lies) and that 70% of college students surveyed said they would lie on their resume to get a job they really wanted.
Do people ever get caught?
Is it worth it to lie on your resume? Does anyone ever get caught? Surprisingly, quite a few do get found out. A 2014 CareerBuilder survey of over 2,000 hiring managers found that 58% have caught an applicant in a resume lie, and it's seemingly becoming more prevalent: in the same survey, 33% reported seeing more lies since the recession of the early 2000s.
What are candidates lying about?
According to the respondents in the above referenced CareerBuilder survey, these are some of the most common lies hiring managers catch on resumes:
Embellished skill set: 57%
Embellished responsibilities: 55%
Dates of employment: 42%
Job title: 34%
Academic degree(s): 33%
Companies worked for: 26%
Accolades/awards: 18%
What industries catch the most resume lies?
The CareerBuilder survey found that these industries catch resume fibbers at an above-average rate:
Financial services: 73%
Leisure and hospitality: 71%
Information technology: 63%
Retail: 59%
What are some of the best ones?
What survey about lies on resumes would be complete without at least a little bit of public shaming? While we don't have any names, we do have their bonehead lies. So, without further ado, here are 5 of my favorite terrible, terrible, resume lies.
One applicant claimed to have been a construction supervisor. This isn't ridiculous on its own, but the interviewer later learned the bulk of his experience was in the completion of a doghouse some years prior.
Another applicant claimed to have 25 years of experience. He was 32 years old.
Someone else applied twice for the same position and provided different work history on each application.
One job seeker applied to a position with a company that had just terminated him. He listed the company under previous employment and indicated on his resume that he had quit.
And my favorite of the bunch: One applicant claimed to be the assistant to the prime minister of a foreign country. The only problem (aside from thinking that the hiring manager wouldn't check this out) was that the country he listed didn't have a prime minister.
Is it really that big of a deal?
The answer to this question can't come from any survey; it has to come from you. Lying on a resume may help a candidate stand out above the rest at first, but when caught, the question becomes, "How trustworthy is this candidate?" If you hire them, will you be able to let them into your business's inner-circle? Rosemary Hafner, VP of Human Resources at CareerBuilder, sums it up perfectly: "Trust is very important in professional relationships, and by lying on your resume, you breach that trust from the very outset." So how important of a factor is trust when hiring for your business?
Let's go back to Brian Williams. Before his apology for exaggerating an account of a forced helicopter-landing in Iraq, marketing research firm The Marketing Arm ranked him as the 23rd most-trusted person in the United States, on par with Warren Buffet and Robin Roberts. In the few days since, he has fallen to number 835. His new peers? Russell Westbrook (who I would trust with a buzzer-beater) and Duck Dynasty's Willie Robertson (I'd let him make me a duck call). And his fall has continued since then. Just this morning, NBC announced that it will suspend Williams for 6 months without pay and is considering a permanent replacement. Yikes.
The network is also already seeing the effects of this broken trust. NBC's Nightly News, a perennial front runner in nightly news viewership, was beaten by ABC's World News Tonight in terms of viewers for just the ninth night since the start of the television season in September. Will this decline continue? No one knows. But if the lies of one high-profile employee could hurt a mega-corporation like NBC so badly, what could it do to your small business?
[latest_posts header="More on HR" limit="" category="6″]