5 Reasons Your Business Needs a Killer Website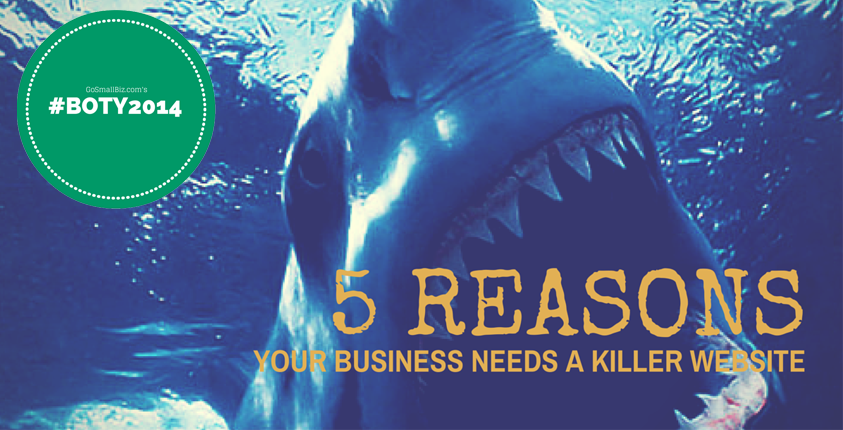 This article was voted one of the best of 2014 by our readers. Only the cream of the crop for you my friend.
Are you old enough to remember encyclopedias? Newspapers? CDs? Do you remember when Sports Illustrated was a printed magazine? I used to call people. I can address a letter. I played outside. That seems like a long, long time ago and a galaxy far, far away, doesn't it?
Face it: we live in a digital world. Newspapers are online. internet has killed the radio star. Sports Illustrated delivers its headlines in real time to your computer, iPad, iPhone, iPod, iEverything via Twitter. Google has replaced the long-term memory of most Americans. My point? It is more important than ever that your business has a killer web presence.
In a study of 1500 online consumers, 88% of consumers leave a website and don't return after a bad experience. Compounding this, more than a third of them told someone else about it. The impact of your website, good or bad, can make or break your business.
Here are 5 more reasons your website needs to knock 'em dead.
1. 44% of online shoppers begin by using a search engine. 
What's the first thing people do when you want to learn more about a product? Almost half of them (44%) begin at a search engine. The Pew Research Center found that 86% of search engine users have learned something about a product or service through search. Proper site structure and basic SEO can really help your chances of showing up. Effective planning and great site copy can give your visitors exactly what they're looking for.
Is your website helping or hurting? Get a free website audit from our design pros.
2. 61% of global internet users research products online. 
Internet research firm Ipsos found that 61% of consumers use the internet during the research phase of shopping. The same research found that 48% of global internet users had purchased something online within the past 3 months. It's important that you have a website that acts as your brochure, letting people learn about your business, see where they can find you, and understand why they should do business with you.
3. 50% of all mobile searches are conducted in hopes of finding a local business result, and 61% of those searches result in a purchase. 
Interestingly, the bigger and more sophisticated the internet gets, the more local the results get. In fact, 59% of Google users report using Google to find a local business within the past month. Search Engine Watch found that 50% of all mobile searches are conducted in the hopes of finding a local business. Even more important for business owners, 61% of those searches resulted in a purchase.
Is your current website responsive (aka mobile friendly)? If someone finds your website on their mobile device, will they be able to get the information they need? Or will they have a bad experience and join the 88% who leave a website frustrated, never to return?
4. 40% of people will leave a website that takes more than 3 seconds to load. 

Research released in 2014 on attention span and web use determined the following depressing information:
The average attention span of a goldfish is 9 seconds.
In 2000, the average attention span of a human being was 13 seconds.
By 2013, the average attention span had dropped to 8 seconds.
Yes, 1 second less than a goldfish.  Sigh. It seems we have an even shorter attention span when it comes to websites–so much so that 40% of visitors will leave your website if it doesn't load in 3 seconds or less. Simply stated, if your website is not quick to load (and easy to navigate), visitors will space out, chase a butterfly for a second, and then find one that is.
Learn the fundamentals of website design. Sign up for our free online Website Design Boot Camp.
5. On average visitors to a webpage read slightly more than 28% of the content they see on the page and scan a site in an "F" shape. 
In the same study as the one referenced above, researchers found that visitors will only read a little over a quarter of the words on an average length webpage. Also, most people scan a website in an F shape, starting left to right across the top and then down the left hand side of the page. This is first class real estate. Save it for your best stuff.
Feeling a tad overwhelmed? We've got good news! You can learn the fundamentals of website design in our free online Website Design Boot Camp. Click here to sign up and get the first lesson delivered to your inbox immediately.
[latest_posts header="More on Marketing" limit="" category="8″]