4 Perks to Participating in Small Business Saturday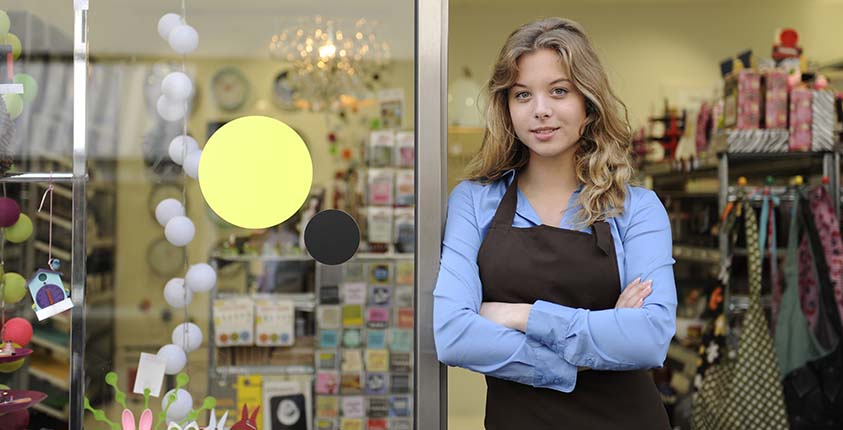 It's good to #ShopSmall. Small Business Saturday may be sandwiched between two of the biggest shopping days of the year (Black Friday and Cyber Monday, respectively), but the holiday continues to hold its own when it comes to supporting small businesses. Want proof? In 2015, more than 95 million shoppers participated in Small Business Saturday and spent over $16.2 billion by shopping at local businesses in their communities. And the numbers only keep growing from there, with American Express Holiday Growth Pulse reporting that nearly six in 10 small business retailers think holiday sales will be stronger in 2016.
If you're a small business owner who has never participated in Small Business Saturday before, prep your welcome mat and get your signage ready. There are plenty of perks to joining in the big day that extend well beyond making a sale.
1) In need of marketing materials? AmEx has you covered.
Small Business Saturday kicks off Saturday November 26th, but anyone interested in joining in on the fun may be worried it's too late to create signage for their storefronts and social media accounts. Never fear because American Express (where Small Business Saturday is registered as a trademark) has all of the complimentary marketing materials you need! Fill in a few details and in just two minutes, your materials will be prepped and ready to go for social media networks, (profile/cover photos) your website, (badges, logos, and email templates) and storefronts (custom posters, event flyers, and more).
2) Want a little extra publicity? Reach out to the Patch!
Just like major retailers enjoy a publicity boost for their holiday shopping deals, small businesses deserve their own special shout out too. Reach out to the closest Patch, a local news media platform, in your area and see what they might be offer by way of promotion. Patch sites throughout the country including those in Salem, NH and Westborough, MA are encouraging participating businesses to share their story with the Patch community to be featured on the site. It's a great opportunity to build up word of mouth awareness about your small business while getting extra foot traffic to your storefront.
3) It's a great way to spruce up your business, inside and out.
If you own a storefront that isn't constantly frequented by consumers, this is your time to show it off by making Small Business Saturday your open house. Put up some festive decorations and set up a table with holiday food and drinks. Add a poster to your door (or better yet, keep it propped open all day!), and include flyers or business cards in prominent places where customers can pick them up after making a purchase. Share the day's on-goings via social media and encourage your customers to do the same by including your social handles and any hashtags for the day on your signage.
4) And remember — it's statistically proven that shopping small makes us happier.
In 2014, 94% of U.S. consumers reported that shopping at small businesses made them feel good. The act of feeling good extends well beyond the holiday weekend too. A Small Business Saturday Consumer Insights Survey revealed that 66% of consumers will shop at a mom and pop business because they value the contributions that the business makes to their community. The U.S. Small Business Administration has also noted that 77% of consumers are inspired to shop small year round, ultimately boosting consumer spending and local economies—all because of Small Business Saturday.
So, this November 26th go ahead and hop on the #SmallBizSat bandwagon! By being a part of the #ShopSmall action, you're doing more than just making a sale. You're supporting other small businesses to do more business, giving the economy an extra boost, and preserving your neighborhood, allowing it to thrive like never before.
Originally published by SmallBizClub