4 Keys to Entrepreneurial Independence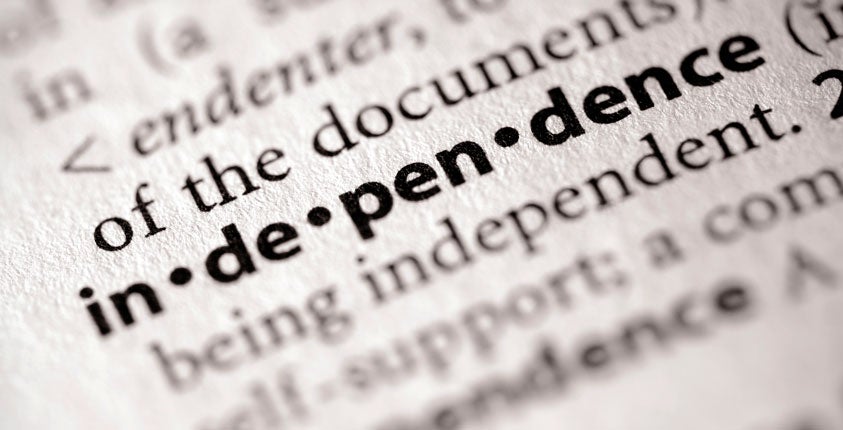 Every year we celebrate our independence on July 4. Of all our holidays, July 4 really stands apart with its unadulterated joy. We shoot off massive firework displays, see how many hot dogs Joey Chestnut can eat, and spend time with family and friends in the bright summer sun. It's all because of the freedom we enjoy because some brave Americans were willing to declare their independence from the most powerful nation on earth—and risk everything they had to claim it.
Entrepreneurs understand that joy—and that courage—because entrepreneurship is all about declaring your independence and boldly stepping into the unknown. It's never easy, and we face obstacles all the time, but that independence and control over your own life brings joy and inspiration every day. We start businesses to be our own boss, and to pursue our own dream instead of following someone else's vision.
In honor of the holiday this past weekend, here are 4 of the biggest keys to entrepreneurial independence.
A Sense of Purpose
I've had an entrepreneurial spirit as long as I've been alive, I think. When I was just a little kid, I would take my little red wagon down to the Safeway store and help the old ladies take their groceries home. Every child has an independent streak, and mine manifested as a young fledgling entrepreneur. They might give me a nickel, and I would add it into the family pot. I was doing more than just carrying groceries; I was contributing in a meaningful way to my family, and that made me feel good! I had a deeper purpose, a real mission for what I was doing.
When you're an entrepreneur, there's a deeper purpose to your life—and it's more than just making money. It's not about collecting a check. To create a sustainable, successful business, your mission has to be about helping people and solving their problems by bringing value to their lives. I learned that very early on, and it's been a big part of everything I've ever done since. As entrepreneurs, we have the freedom to find our mission, and it's a real source of joy every day.
Reinventing Yourself Every Day
Once I caught the entrepreneurial bug, I never stopped. I sold life insurance while I was in college at the University of Georgia, I worked during the offseasons from the very beginning of my NFL career, and I started my first businesses just a few years later. By the time I retired from football and took to business full time, I had already been starting and building businesses for a decade. And all these years later, I'm still going strong.
But with all the different things I've done and experiences I've had, I've had the same mission the entire time, and I've reinvented myself at different points to better fulfill that mission. Everything has been about helping business owners have the best chance to succeed. I can't keep doing the same thing tomorrow that I did yesterday—I have to get better and look for new, innovative solutions, because if I don't, then someone else will. That can be scary, but it can also be inspiring. When you're an entrepreneur, you're never just doing the same old thing. There's always an opportunity to change and grow and reinvent yourself. That's freedom.
Meaningful Relationships
One of the greatest things about being an entrepreneur has been the relationships I've been able to build. As a business owner, you have to engage with other people—small business people, big business people, peers, customers, partners, venders, employees, you name it! And what they say is true: it really is all about relationships. You have to reach out to people, ask questions, and be curious. People need to talk to people, and that feeds into reinventing yourself by seeing things from different perspectives and getting fresh insight into what you can do for other people, and how other people might be able to help you.
Continual Learning
We're never done learning. I've been building businesses for 50 years now, and I know more now than I did 10 years ago, and I'll know more tomorrow than I know today. The key to success in business is and has always been education and learning. The people who have the best learning have the best chance of success.
Before I started my first companies, I learned the ropes of running businesses by working at all kinds of different jobs for different companies, so that I understood every part of the business, and how businesses of all sizes and different industries worked. That helped me when I declared my own independence as a full-time entrepreneur, and it has helped me to build more than 20 successful companies in my lifetime.
And that's why I'm spending a lot of time today helping people get their start in entrepreneurship, and helping current business owners get the resources they need to be meet their goals. Independence is a powerful thing, and I want everyone else to feel it the same way I do every day! I love what I'm doing with my alma mater, the University of Georgia, and the acclaimed Terry College of Business to offer the Tarkenton Certificate in Entrepreneurship. It's an online, MBA-level program with everything a business owner—or would-be entrepreneur—needs to know to run a better business, from business planning to marketing to daily operations. No matter how long you're in business, there's always something new to learn, and that continual learning isn't a chore—I love it because it's part of the independence we get as entrepreneurs.
If you're a fellow business owner, I hope you'll join me in celebrating our independence. And then we'll do it again every day.
This article was originally published by Bluefin Payment Systems
[latest_posts header="Recent Posts" limit="" category="9″]