4 Female Athletes Successfully Embracing Entrepreneurship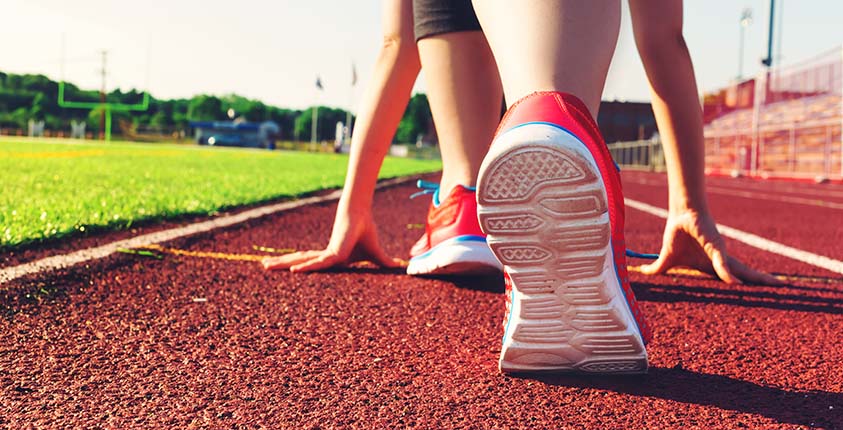 All throughout October, female entrepreneurs everywhere are celebrating National Women's Small Business Month. As reported by the SBA, more than 11 million woman-owned businesses can be found in the United States, generating more than nine million jobs and $1.6 trillion in annual revenue, and conquering every industry from healthcare to social services.
Going the distance right alongside them are female athletes turned successful business owners. In many ways, there are plenty of lessons that being active in sports can teach women to help prepare them to become successful entrepreneurs. EY's report on why female athletes make winning entrepreneurs uncovered sports skills like resilience and confidence that allow these women to excel both on the field or arena and within the startup world.
Putting this roundup together was tough because I was excited to discover there are tons of active female athletes turned entrepreneurs out there, all of which are knocking it out of the park with their respective companies. From ballerinas to tennis players, here's a look at four to inspire you to get your own business started and blow the competition away.
1. Kristi Yamaguchi
At the 1992 Winter Olympics, figure skater Kristi Yamaguchi won her first U.S. title and took home the gold as an Olympic champion. Four years later, she would establish her own business. The Always Dream Foundation is dedicated to supporting underserved children with innovative reading programs. A passionate bookworm herself, Yamaguchi believes that early childhood literacy resources ultimately allow children to increase their academic success and life potential. Her business has also gone a step further by embracing technology as well. The Foundation launched Always Reading in 2012 to connect children with eBooks in both the classroom and the home.
2. Michelle Brooke-Marciniak
Former WNBA basketball player Michelle Brooke-Marciniak has taken her hoop dreams and turned them into a budding business. She's the co-founder of SHEEX, a high-performance bedding and sleepwear brand that does more than offer up everything you could need for a good night's sleep. SHEEX focuses on the science of sleep and recovery with products that use breathable technical fabrics in order to create a comfortable sleep environment. Whether you're an athlete or an entrepreneur, everyone needs a good night's sleep and SHEEX is continuing to expand its offerings worldwide to make that a reality.
3. Venus Williams
Venus Williams may be famously known as a tennis champ, but what you may not know is that off the court she's the CEO of not one but two companies. First up, we have EleVen, athletic apparel for fashion-forward athletic women. Williams is personally involved in all aspects of the EleVen line from design (in understanding everything from prints to colors) to sales (with what customers and fans like and new pieces to introduce to them). Then we have V Starr Interiors, an interior design company. As Williams describes it, design is her second greatest passion after tennis. She credits her team of designers at V Starr as the best part of being the founder there and that they give her the chance to learn, share, collaborate, and excel together.
4. Katie Warner Johnson
Carbon38, a luxury active apparel company, is the brainchild of former professional ballerina Katie Warner Johnson. Co-founded alongside Caroline Gogolak, a ballet pal of Johnson's, the pair came up with the idea in 2011 while attending the Women 2.0 Startup Weekend in San Francisco. Their lifestyle brand was dedicated to strong, active women everywhere who did life on their own terms and deserved activewear in their wardrobe that reflected that mindset. Johnson and Gogolak were able to pull together enough of the idea to present a demo at the event, win a prize, and get exposed to accelerator programs and venture capitalists in attendance. Carbon38 grew 500 percent in 2015 and even brought in more than $20 million in 2016. Now that's a business idea on point(e)!