3 Ways to Watch the US Belgium World Cup Match at Work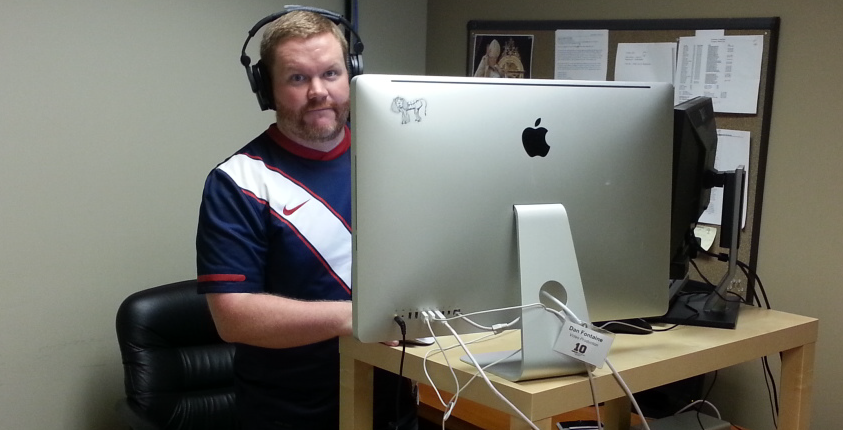 So the US has made it to the knockout rounds of the World Cup, but you've got a problem. They play at 4:00 pm ET today. It seems that the World Cup scheduling committee doesn't even care that you've got to work when the games are going on. You've explained this terrible predicament to your boss, but he doesn't seem to care, either. He's more concerned with staffing and providing services and things like that. So what are you supposed to do?
Some of your friends have been bragging about their bosses who have set up viewing centers in the office to allow employees to watch. Other friends didn't blow all their sick days binging to catch up on How I Met Your Mother before the series finale. But not you; you, my friend, are stuck between the rock, and its perennial partner, the hard place. So what are you going to do?
Have no fear. Here are 3 things you can do to catch the game and avoid elimination in the knockout stage at your office.
1. Watch it on your computer… duh
Do you have cable, a computer, and a good set of headphones? Then check out WatchESPN. Most cable providers will let you watch through this site after signing in with your account credentials. Other cable providers, like Comcast, will allow you to stream games through their on-demand apps or other web properties. Then, all you need to do is make sure those aforementioned headphones are plugged in; pull up a second, business-related website in your browser; and be ready to switch when you hear your boss rounding the corner.
2. Watch it on the move
So the above suggestion left you saying, "Well of course. If I could just sit and watch it on my computer I wouldn't have clicked the link to read this article." Fair enough… If you're a cable subscriber, you can most likely get the WatchESPN app delivered right to your phone. Just be sure to make some convincing grunts and facial expressions to make the boss think you just got some pressing news from home or some important business message that couldn't wait long enough to go through the "proper channels." Also, you might want to think about investing in a phone case with a kick-stand… just saying.
3. Immersion Learning
For those of you who said 1 or 2 would work for you but don't have an applicable cable subscription, Spanish television network Univision is streaming all the games for free at this website. They also have a mobile app. Sure, the game will be broadcast only in Spanish, but it may be a good chance to actually learn something as you watch. This way, if your boss catches you right in the middle of a juicy cross or an exciting rush, you can incredulously explain that you're not watching soccer (I mean, you are at work after all – what kind of an employee do they think you are?!?!), you're working to expand your vocabulary and help people who don't speak English as a native language. Plus, you really only need to hear one word to know what's going on, "GOOOOOOOOOOOOOOOOOOOAAAAAAAAAAAAAAAAAAALLLLLLLL!!!!"
Can't Do This? Better Find a Rock
If you can't do 1, 2, or 3… well it's time to find a suitable rock and climb under it, because this game will be talked about and you won't be able to hide yourself from the score. My advice would be to set up the ol' DVR and find a nice co-working space for the day with the least popular person in your office. Then, on the way home, don't speak to or make eye contact with anyone, leave your radio off, and then run into a secluded room, lock the doors, and put those headphones back on. Do this, and you may just have a chance to see it with no spoilers.
Good luck and go Team USA!