3 Interview Questions Small Businesses Need to Start Asking Candidates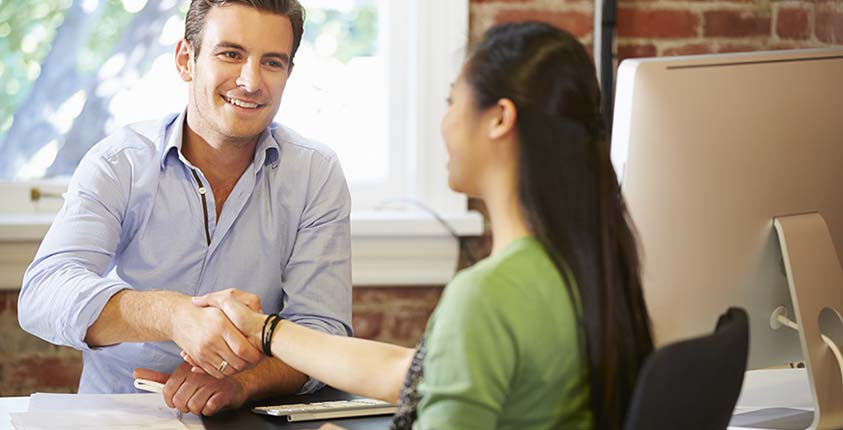 What was one of the biggest challenges facing small businesses in 2017? According to a report from the 2017 American Express OPEN Small Business Monitor, it isn't keeping current business nor is it cash flow concerns. The number one challenge to growth — at 26% — is finding and investing in the right staff.
The good news is that businesses are working hard to hire employees that will be a fit by turning a more strategic eye to the interview process. Common questions like "tell us where you see yourself in five years" are getting chucked aside in favor of meatier inquiries that tell employers much more about the candidate's accomplishments and what they can do right now to help grow the business. The next time you interview a prospective candidate for a position within your company, ditch mulling over their strengths and weaknesses and consider asking these questions instead.
Tell me about a time you made a mistake.
While candidates will be expecting questions about accomplishments made during their career and how that impacted their team and personal growth, they're not as likely to be ready for questions about mistakes made on the job.
However, this is an important area to address because everyone makes mishaps in their career. How do they recover and remedy the problem? When asking about mistakes, seek out the lessons they learned from making these mistakes and how it impacted the way they approached work from there on out. Watch for those candidates that place blame on others involved rather than taking responsibility. It's a subtle red flag, but one that gives you more insight into their personality, and whether or not they're a team player, than you might realize.
How do you stay on task when you're busy?
You're working on an assignment with a tight deadline. Suddenly, another project with an equally tight deadline is given to you to complete. Then, you are required to attend an off-site meeting and return to the office for another in-person meeting. All the while, your inbox is gradually filling up with unread emails, many of which require your immediate — or as immediate as possible — attention. How do you handle being pulled in 1000 different directions all at once?
This question is especially crucial when interviewing at a startup where business tends to run with a lean staff that must be adept at wearing many hats. When asking this question, employers aren't looking for answers where the candidate essentially says they work all night without breaks to get the job done. Rather, they're looking for techniques candidates use to stay on task. How do you strategically organize your obligations and focus to get the assignment completed? This gives employers a glimpse into how candidates lay out the groundwork for working on a day-to-day basis
Are you a good listener?
This is a trick question because employers will not be asking it. Rather, they will be observing the behavior of candidates during the interview for clues that provide insight into whether or not they are listening. Watch out for anyone taking notes or asking thoughtful follow-up questions. All of this shows the interviewer that the candidate is processing what they're saying, which is always a great trait to have in a prospective employee. Additionally, seek out the researchers. These are the kinds of candidates that do their homework in advance about what the company does to better prep them to ask questions about the company culture and values, what makes the business so successful and how success is measured. Having a good answer to tough interview questions is always good, but picking up on social cues is everything when it comes to finding the right talent to grow and sustain your business.