What's Your Small Business New Year's Resolution?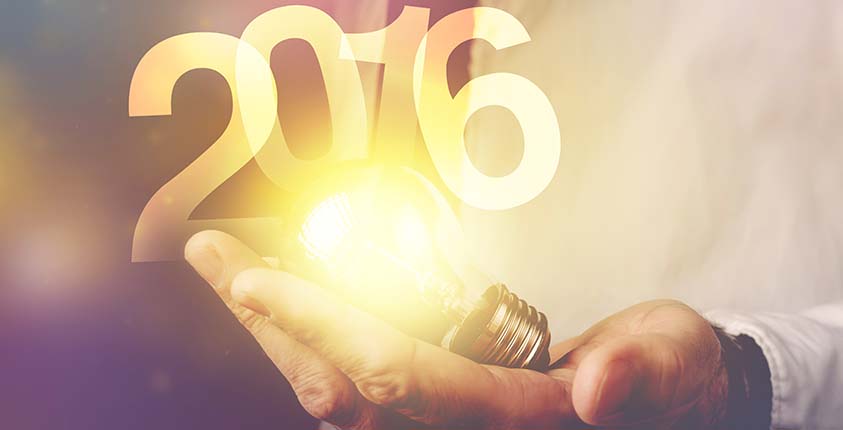 2016 is here, and that means New Year's Resolution time. On a personal level, millions of people are promising themselves to improve their health, give up bad habits, and every idea under the sun.
But the New Year is a great time to make some resolutions for your small business, too. What are the things you'd like to get done this year, things that you've been putting off, or things you've not had the opportunity to do before? Here are a few ideas—and best of all, the ways GoSmallBiz can help.
Incorporate Your Business
Every business starts out by default as either a sole proprietorship or general partnership. Those legal entities are simple and require no work for you to maintain, but they come with some downsides, especially the personal liability of the owner for any and all debts and claims against the business.
If you haven't set up a formal entity for your small business, 2016 might just be the time to change that. Whether you're considering an LLC, C Corporation, or S Corporation, the incorporation process has major benefits for any business.
Click2Corp is an independent service powered by GoSmallBiz.com that will take care of any and all steps in the incorporation and corporate maintenance process. They'll fulfill any and all state requirements, and you have an experienced professional making sure everything is done right. Learn more at www.click2corp.com.
Draft a Business Plan
Many small business owners skip the business plan stage, thinking it's unnecessary because they're not looking to take out a loan or get investors. And many others crafted a plan a long time ago, but haven't looked at it or updated it since. It's an artifact from an earlier stage in the business, not something actively being used.
But having a business plan isn't just something you put together when you're looking for money. A business plan gives you a complete look at the totality of what you're doing. You don't just have to go by gut instinct; the business plan forces you to think through everything from competitive differentiation to market size to real hiring needs.
If you've been ignoring your business plan, you can get to work in 2016 creating a new plan or updating your old one. The GoSmallBiz Business Plan software is now included as part of the GoSmallBiz membership. The software is all cloud-based, and includes hundreds of templates to find a match for your concept, a step-by-step wizard, and automatically generated financial statements and projections.
Get Your Business Online
Your customers are online—is your business? An overwhelming majority of consumers use the internet to research businesses, especially ones they aren't familiar with. If your business isn't online, then they won't find you and will instead go straight to competitors who they can find online.
Fortunately, building a website doesn't have to be the overwhelming task it once was. A GoSmallBiz membership includes access to our DIY Website Builder, with free website hosting. And if you want a professionally designed site, the GoSmallBiz Website Design Service puts a team of website professionals to work to create the site you've always dreamed of in as little as two weeks.
Start Blogging Regularly
For business owners who do have an online presence, a blog is a great asset that gives customers a reason to visit your site over and over again, and also lets people get to know more about you and your business before they spend a penny. It builds your credibility by showing you know what you're talking about, and can help build all-important relationships.
But it's easy to say you want to blog (or blog more)—the trick is actually doing it, and making sure your website has blogging capabilities. Our Website Builder and Website Design Services include blogging capabilities, and make it easy to connect your website with social media pages. Now it's just up to you to start writing!
Learn a New Skill
More broadly speaking, we're all capable of learning something new. No matter what we have or haven't done already, what we do or don't know, there's always something more out there. That's why common personal resolutions include things like "learn a foreign language."
The same is true in business. If you've developed an expertise in one area, wouldn't 2016 be a great time to learn some things in a new area?
There are many paths you can take to pick up a new business skill, whether it's about marketing, accounting, or any other topic. The Online Learning Center included in your GoSmallBiz membership features more than 40 on-demand video courses. Or for a more comprehensive experience, the Tarkenton Certificate in Entrepreneurship features MBA-level content created by the Terry College of Business at the University of Georgia and the Tarkenton Institute, with everything you need to start, run, and grow a business.
Want to grow your business?
Become a GoSmallBiz member today!
Get Started Now
January 1 has passed, but it's never too late to start with your plans for a better business. What New Year's Resolution are you making for your business in 2016?