Using a Recruiter to Find Employees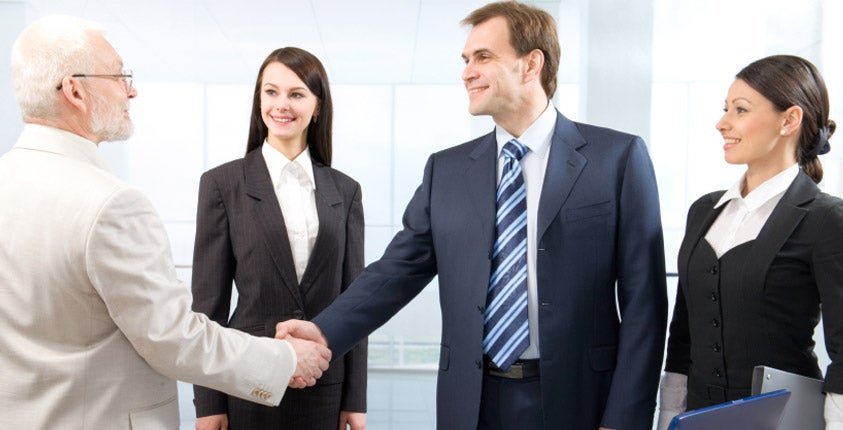 Both large companies and small businesses often find it advantageous to use outside recruiters to hire new employees. Small businesses don't have the human resource department necessary to conduct large searches for new employees, and larger companies often find that it is easier to work with outside recruiters to hire employees with specialized skills. They likewise will often turn to outside help when looking to fill positions in important management roles. But how does it work when you use an outside recruiter to find new employees? Learning about the different types of services will help you decide which would work best for your company's needs.
Employment Agencies
A common way to use an outside recruiter to find employees is through an employment agency. These agencies operate at a local level, and are used primarily to recruit clerical workers. They're a great fit for companies that have a steady need for new entry-level employees, and can get you access to many candidates at that level, particularly in support staff. When you're thinking about using an employment agency, learn about the company's fees and track record, which can vary. The fees for hiring new workers through an employment agency can be as high as 20 to 25 percent of the employee's first year salary, and might be paid by either your business or by the jobseekers themselves, depending on the agency. Find out the track record of candidates that this agency has placed, to see how successful it's been at recruiting strong employees, and make sure that your agreement during the hiring process is fully spelled out in writing.
Search Firms
Search firms are more commonly used to recruit candidates for management positions, and they work for the employer, not the potential employee. The first kind of search firm is the contingency firm. The contingency firm is only paid if the employer hires a candidate found by the firm. This presents a great advantage for small businesses, because you can enlist multiple contingency firms to search for qualified candidates, and you only have to pay the firm that finds the person you ultimately hire. These recruiters are good for finding candidates in mid to lower level management positions, or for hiring employees with specialized or technical skills (e.g., computer programmers or engineers).
The second kind of search firm available is the retained firm. Recruiters are used here for hiring only the highest management levels, such as CEOs or corporate directors. The business hires the firm for a set period of time, and pays the recruiter a fee regardless of the outcome of the search. Retained search firms are expensive and deliberate, and so they are only used for recruiting a candidate for a position that is absolutely critical to the organization, where no expense should be spared.
Whenever you use a recruiter to find new employees, make sure you completely understand what kind of candidates you're looking for. Know what your needs and requirements are during the recruiting process, and make sure the employment agency or search firm fits those needs. Work with a company with a strong reputation that you are confident can find the right employees, and not just the first recruiter you stumble across. Understand the recruiting process to make it work to your advantage.
Do you use recruiters to fill positions at your company?