Put Your Small Business's Content Marketing on Steroids With a Blog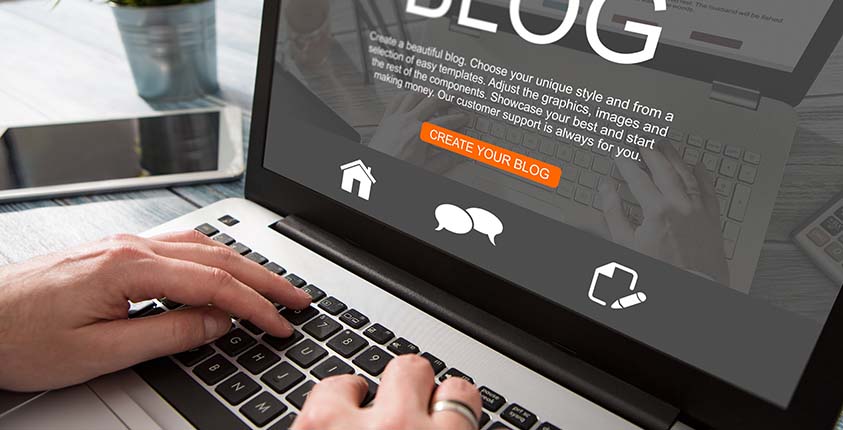 As a business owner, you always have a lot of irons in the fire, trying to keep things running smoothly. While there's a decent chance keeping up with a blog is near the bottom of your to-do list, it really shouldn't be. A strategic blog on your website could be your golden ticket to reaching and converting more customers.
Educational content is a marketing asset that's available to all businesses at a low cost, making it a great leveler when you're trying to compete with larger companies. Creating a blog packed with industry insights will not only help your business stand out in an oversaturated market, but it will also build trust and keep you top of mind with potential customers.
Ninety-six percent of your website's visitors are in research mode and aren't quite ready to buy. They can see right through self-promotional content — they won't trust it, and it will repel them. But if you deliver valuable content to them at every stage of the buyer's journey, they'll return to your site again and again.
Tailored Content Hits the Target
Think of your company blog as a platform where you can regularly share insights, demonstrate your brand's personality, and foster relationships with curious prospects.
If your blog content is truly useful and compelling, it can set a virtuous cycle in motion: people will share it far and wide on social media and via email; other sites or companies may even pick up on it and want to form relationships with you based on the value you've already provided them; and those partnerships can drive even more customers your way.
As an added bonus, the higher your blog content ranks with search engines like Google, the more readers it will attract. With a little DIY search engine optimization, you can tailor your material to climb in search result rankings and get more eyes on your site.
Whether your online traffic has been lagging or you're just interested in upping your blogging game, here are six tips to dramatically increase the value, output, and consistency of your content creation efforts.
1. Leverage inside experts.
We publish content five days a week on the Hatchbuck blog, so we have a large pipeline of content that we write, edit, and collaborate on constantly. To keep it flowing, we look into trending keywords and build content ideas based on pain points that customers have shared with us.
To create content that's relevant to the ideal buyer, we draw insights from every department in our company. We've featured posts from our sales team, onboarding team, and customer service team to make sure our blog offers viewpoints on all aspects of running a small business to serve our target audience.
We've also included blog posts from customers, partners, and small business influencers.
By including voices other than your own in creating posts, you're casting a wider net. Plus, you're spreading the work around so it's not as daunting.
2. Know your audience.
More than a third of marketers lack confidence that their content addresses customers' specific needs. To avoid this dilemma, dig into your ideal buyer persona to determine your target blog reader.
We've worked hard to identify our radical buyer, so we make sure that all of the content and topics we publish are geared toward educating that audience. It's incredibly important to know who you're writing for before you start publishing content.
If your content isn't valuable to your audience members, they'll have no reason to read it. That's why it's so critical to pinpoint your ideal buyers and identify their pain points upfront to ensure your content effectively addresses those issues and provides real solutions.
3. Include actionable takeaways.
Like most people these days, your readers likely have limited time to dedicate to reading blogs, so they'll want your content to give them clear action steps to follow. The only way to make your content memorable and your brand trustworthy is to produce content that educates your audience and offers unique insights.
Who wants to come away from reading an article or a blog post having learned nothing useful? Certainly not consumers in research mode.
Don't just rattle off statistics about marketing or sales or whatever your industry happens to focus on. Stats can be used to support your takeaways, but they won't help a reader figure out how to act upon your advice. The best way to produce memorable content that lends credibility to your brand is by educating readers. By sharing your own expertise and experiences, you can help them grow and apply your insights to their problems.
4. Add a call to action.
A blog post without a call to action is a wasted opportunity. CTAs invite readers to do something, such as comment on a post, sign up for a newsletter, contact your team, or download a resource. All of these actions help prevent users from bouncing to another site when there's nothing left to read and can, eventually, drive full conversions.
If you have a number of CTAs in circulation already, think about how you might be able to enhance their wording or design or tweak their placement to boost their efficacy.
In a case study published by content marketing firm Brafton, one of its clients actually experienced a downturn in conversions from its blog after updating the user experience. After modifying its article templates and the placement of its CTA buttons, revenue increased by 83 percent in just one month — while traffic only increased by 1 percent.
5. Tease your audience.
By that, I mean tempt them into visiting your blog. After putting in so much work, you should prioritize promoting every blog post on social media. Before you do that, however, you need to draft a short teaser (of a few sentences, max) to intrigue people so they'll click on the link. If you've already crafted a fantastic lede, your work is done.
Make sure to write an excerpt for each post, which is just a short summary — composed of one or two sentences — that entices readers to check out your content. This excerpt will be what shows up when your blog post appears in search results. Otherwise, Google may automatically pull the first few sentences of your post, which might not be as effective at engaging readers.
6. Develop a content distribution plan.
Even the best blog content requires a focused effort to build an audience. Having a plan for sharing each new blog post maximizes the number of readers you can generate with each post.
Make it simple for your employees and the authors of your posts to share those blog posts with their networks to extend your reach. At Hatchbuck, we have a dedicated Slack channel for social that everyone can use to quickly grab the latest article links and excerpts to share with just a few clicks.
Blogging gives your business a voice and provides your audience with a window into what matters most to you. It gives you a chance to showcase your team's expertise without being flashy or promotional, as well as an opportunity to earn your audience's trust.
With all of these benefits and a relatively low cost, what are you waiting for? Gather your team to begin figuring out how to integrate your blog into your overall content marketing strategy today.