Progressive Discipline: Steps to Take Before Termination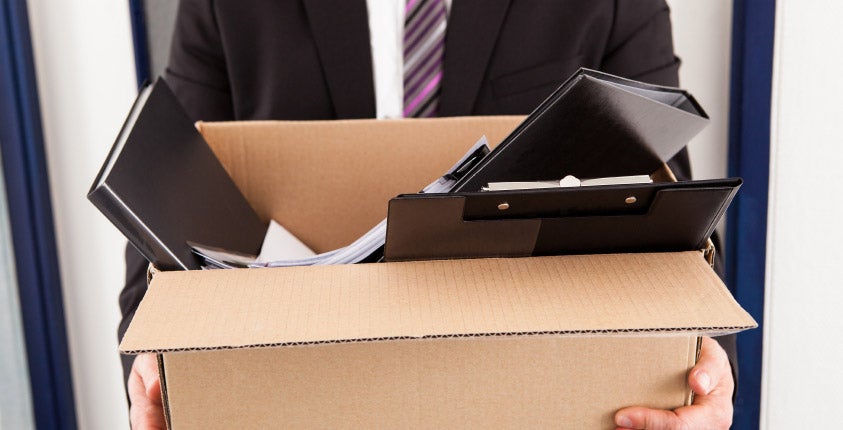 One of the most difficult actions you'll take in business is terminating one of your employees. It's unpleasant for everyone involved. Although the situation will never be easy, there are steps you can take before firing an employee that will lessen the difficulty of the situation. The principles of progressive discipline are an effective tool that business owners can use, as they create a standard process with several benefits. Employees are made aware of problems as soon as they appear, and there is regular feedback and counseling designed to improve performance and correct these problems. Only if these steps fail do you proceed to termination, at which point it's the culmination of an ongoing process, instead of a complete surprise.
Steps in Progressive Discipline
A progressive discipline system goes through escalating phases of warnings, counseling, and training to try to correct any problems in an employee's performance. The employee is fully aware of what the issues are, and has multiple opportunities to bring performance to an acceptable level. No matter what specific steps, or how many, you choose to use, progressive discipline is built around due notice, a chance to improve, and a review process.
Related: Why You Need an Employee Handbook
Here is a sample progressive discipline system that a small business might use. Go one step at a time; if the problem is solved, you end the process, but if it persists, move on to the next step:
Step 1: Talk to the Employee
Explain the problems you are concerned about, and discuss what needs to be done to correct them.
Step 2: Issue a Written Statement of the Problems
Make sure to tell the employee that you'll be issuing a written warning first, and discuss any efforts the employee has made to improve. In the written warning, describe the continuing problems, describe the improvements you want them to make, offer suggestions on achieving those improvements, and outline the consequences if the employee does not correct the problems. Above all else, include the consequences in the written warning; if the case ever ends up in court or arbitration, any judge or labor arbitrator will want proof that the employee received written warning of the consequences of failing to improve performance.
Related: Dealing with a Chronically Late Employee
Step 3: Impose the Discipline Outlined in Your Company Policies and in the Written Warning
Issue another written statement of what disciplinary actions you are taking and why. Include copies of any documents backing up the disciplinary decision, including counseling memos, witness statements, or photographs. Before you take these actions, discuss the situation with the employee, and a representative if one is requested. Listen to the defense the employee has to offer, and make sure the employee is aware of the review process your company follows.
Step 4: Proceed to Termination
If counseling and other disciplinary actions fail, it's time to terminate the employee. Termination should be effective immediately, and is often combined with two weeks' pay.
Related: What is the Cost of Employee Turnover?
By following these steps before firing an employee, you ensure fairness and protect your business from litigation. It gives the employee in question every opportunity to improve, and keeps employees fully informed at each step along the way. The number of warning steps and the disciplinary actions you'll take will vary according to the situation, but err on the side of caution, providing additional time and opportunities to your employees if at all possible. This is especially the case with a long-term employee who has been there for two years or more.
Advertise Disciplinary Policies
Your disciplinary procedures need to be clearly outlined in writing and available to employees before you begin a progressive discipline program. Employees must have the opportunity to prevent disciplinary actions by performing adequately. In your company disciplinary policies, state your business's commitment to the principle of progressive discipline, describe the basic steps you'll use in your business, identify the individuals who are responsible for issuing and reviewing disciplinary actions, and list the steps and timelines that an employee must meet to file rebuttals or request review of the case.
Benefits of Progressive Discipline
Even if you ultimately do have to fire an employee, progressive discipline has many benefits. First, progressive discipline demonstrates that you've made serious attempts to correct problems, and illustrates good faith if there is a wrongful termination suit. Second, progressive discipline gives employees the opportunity to improve their performance. Third, progressive discipline helps you identify weaknesses in your company policies and rules that are negatively impacting performance. If there is a gap in your hiring process, you can identify it and correct your hiring practices to find individuals who are better fits for your company. A final benefit of a progressive discipline system is that it's fair; employees have a chance to improve their performance and behavior, and know what's expected of them at each step along the way. It fosters strong employee relations and demonstrates that you will be fair to your employees.
Do you use progressive discipline in your business? What does your system look like?