Getting Your Team on the Same Page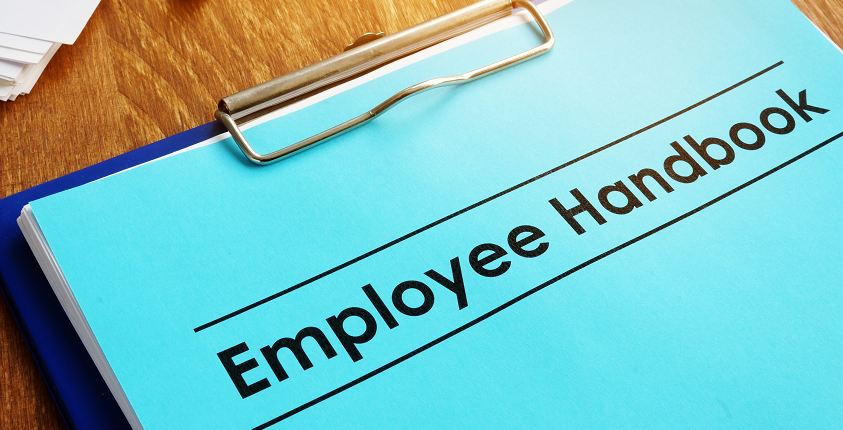 As a business's team grows, knowing how to act and learning clear lines of distinction is important for company morale and respect—to ensure all employees are being mindful and follow correct procedures.
The best way to make sure protocols and rules are followed is to set an expectation by providing a clearly documented Employee Handbook. Creating one from scratch can be difficult; employers may wonder where to begin, what to include, what does the state require, along many other questions.
GoSmallBiz provides the tools necessary to create this guide. Your membership not only includes a handbook wizard maker, but also offers unlimited written consultation. Combining these two tools, a business owner will be able to create an employee handbook and then have it looked at by a consultant to make sure everything in it is in compliance with any regulations.
To begin building an employee handbook, a manager must log in to the GoSmallBiz website and access the HR Communications tab.

After accessing the HR Communications tab, there is a list of various tools to choose from: hiring, terminating, job descriptions, legal forms and more. The section that we're focused on, the handbook, that can be reached by selecting either the image labeled "Handbook" or the tab at the top.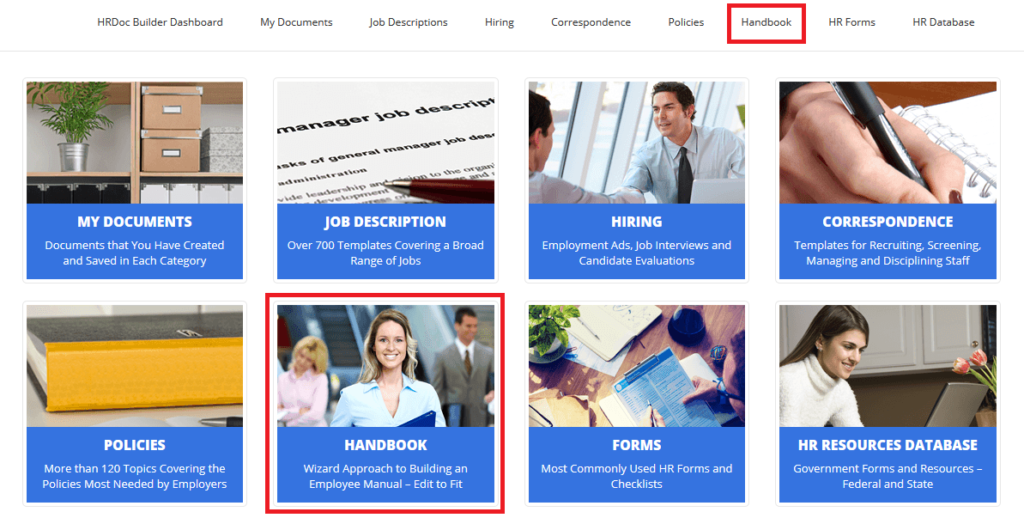 In the Handbook resource page, there will be a blue button titled CREATE NEW HANDBOOK on the left-hand side of the page. Clicking on this will initiate the wizard, which will bring the author to a list of key information for starting the process, such as state, naming the book, and a description, among other things.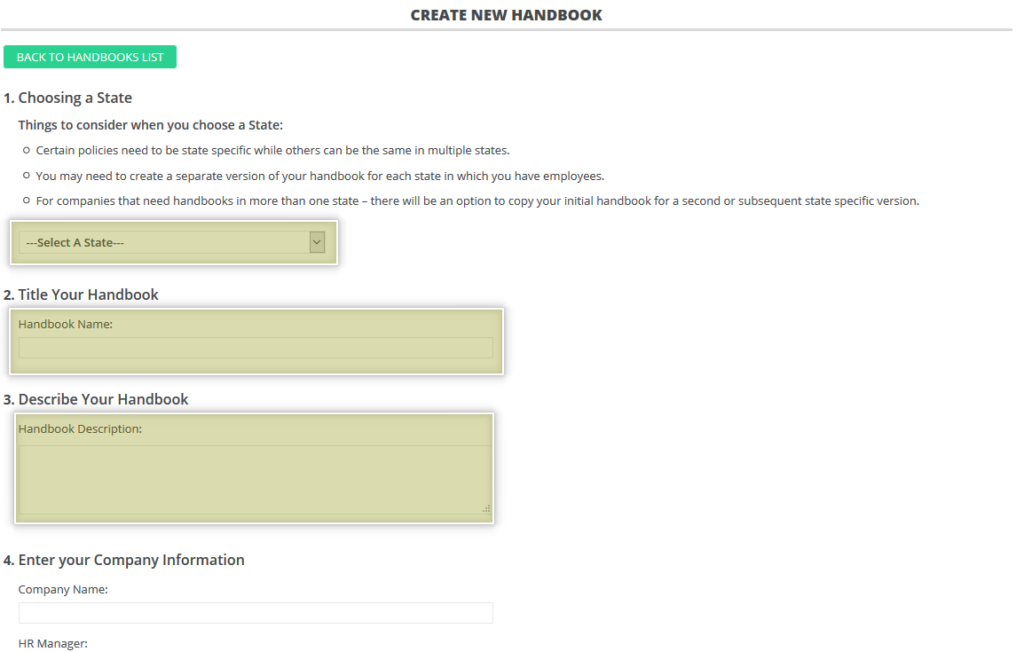 Once the user has filled out the initial blanks, they will be able to choose which version they would like to enter: the wizard mode or the manual mode. The wizard mode will be similar to the image above, a prompt of fields that will need to be completed. For establishments that include many more details, a manual version is available if they are copying over an older handbook or if they would prefer to write the majority with a specific vision.

When choosing the wizard mode, there will be series of different narratives that the author can choose whether to include by clicking yes or no. The writer can preview sections on the right-side so they can confirm if they would like to add the section or not. Also, available in the top right corner, the author can change into a manual mode if he or she would rather type up specific details in certain sections.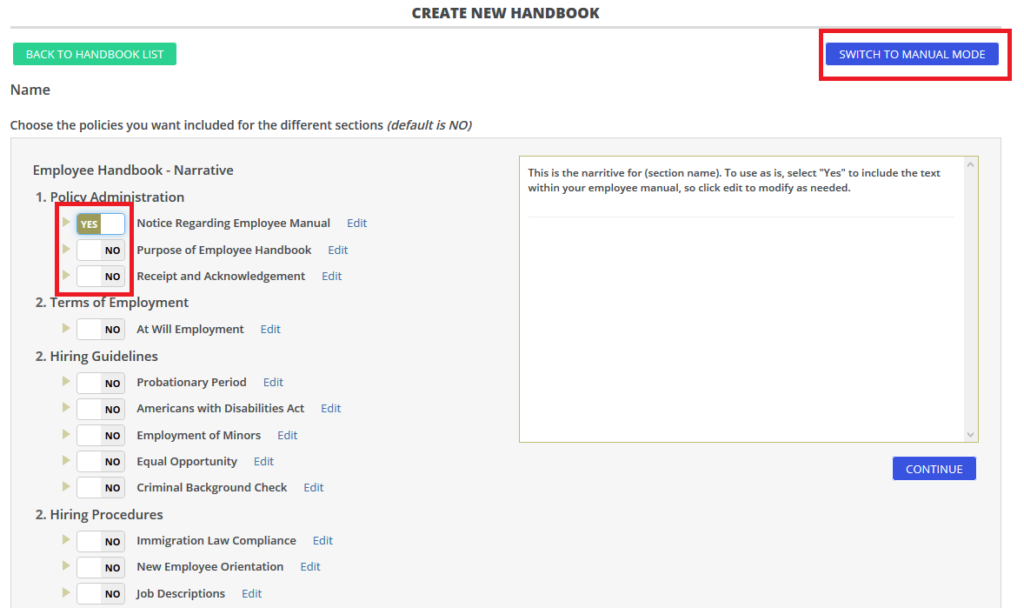 The manual mode looks more like a word processor. Each section, found on the left of the page, will be displayed so that finding and editing them is easy. In either mode, saving and generating the document is easy, as a SAVE button has been conveniently added and a GENERATE WORD DOCUMENT option is also available.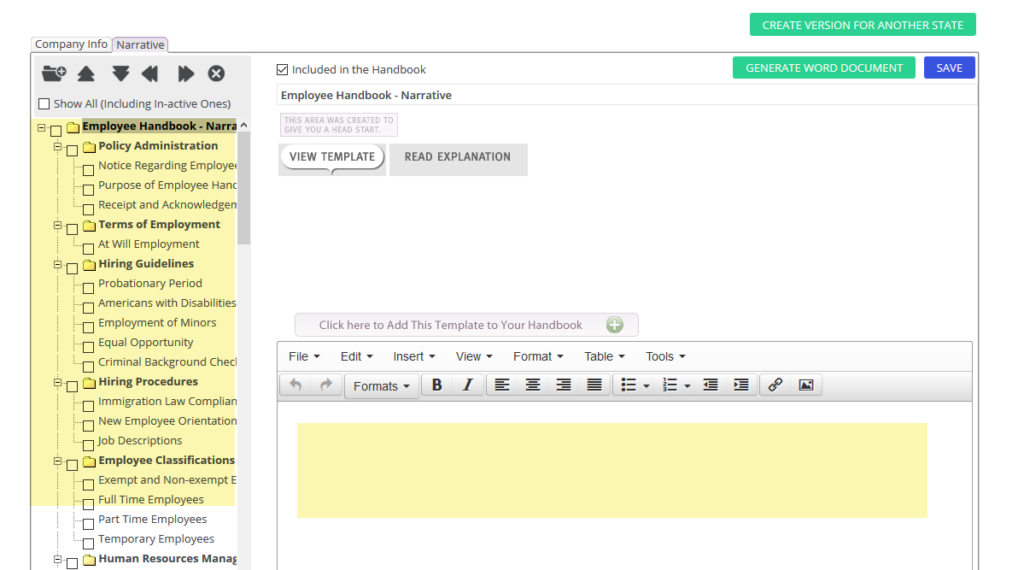 Once the document has been created, the user will be able to produce a document in Microsoft Word to review. In addition, since the employee handbook will be saved, the business owner or HR person will be able to update the handbook as they need, for example if there are company changes or legal or state changes.

Having an employee handbook is an excellent way to hold employees accountable, as well as setting a precedent of what is to be expected and spelling out the rights of an employee. Furthermore, being able to produce this in-house will help to save on costly fees that would have to be spent outsourcing. Also, companies like GoSmallBiz offer consultation insight for writing employee handbooks which brings clarity. It's an asset for a small business. Where normally an owner would have to invest large sums of money for outsourcing this task, they now have the more cost effective option of writing an employee handbook in house.