Consultant's Corner: How to Use Apple Pay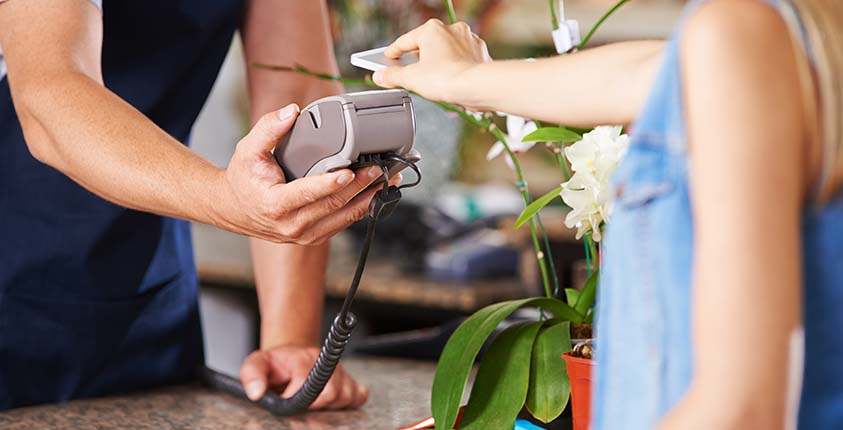 Q: Can Apple Pay be implemented on websites, or is it just for payments at POS terminals?
Apple Pay is Apple's mobile payments service which allows iPhone 6, 6s, 6 Plus, 6s Plus, SE, and Apple Watch owners to make payments with their devices. Apple Pay is designed to allow iPhone 6, 6s, 6 Plus, 6s Plus, and SE users in the U.S. and other selected countries to make payments for goods and services with their iPhones in retail stores using an NFC (Near Field Communication) chip built into their iPhones.
With the Apple Watch, Apple Pay is also extended to the iPhone 5, iPhone 5c, and iPhone 5s. To use Apple Pay with one of these devices, a paired Apple Watch is required to make the payment. This is made possible through the NFC chip included in the Apple Watch.
Apple Pay also lets users make one-tap purchases within apps that have adopted the Apple Pay API. Devices capable of using Apple Pay within iOS apps include the iPhone 6, iPhone 6s, iPhone 6 Plus, iPhone 6s Plus, iPhone SE, iPad Air 2, iPad mini 3, iPad mini 4, and iPad Pro models. All of these devices contain an NFC controller where the "Secure Element" of Apple Pay is located, keeping customer information private.
Since it is built on existing NFC technology, Apple Pay will work anywhere NFC-based contactless payments are accepted. As to using Apple Pay to make purchases from websites, that feature is currently not available; however, Apple is planning to expand Apple Pay to allow iOS users to make purchases from websites in late 2016 as discussed in the articles below, which explain:
"Apple has been telling potential partners that its payment service, which lets shoppers complete a purchase on mobile apps with their fingerprint rather than by entering credit card details, is expanding to websites later this year, multiple sources told Re/code.
The service will be available to shoppers using the Safari browser on models of iPhones and iPads that possess Apple's TouchID fingerprint technology, these people said. Apple has also considered making the service available on Apple laptops and desktops, too, though it's not clear if the company will launch that capability.
Sources say that Apple is telling potential partners that the Apple Pay expansion to mobile websites will be ready before this year's holiday shopping season. An announcement could come at WWDC, Apple's conference for software developers, which typically takes place in June, though sources cautioned that the timing of an announcement could change.
An Apple spokesperson declined to comment."
http://www.recode.net/2016/3/23/11587214/apple-pay-coming-to-mobile-websites-before-holiday-shopping-season
"Apple is planning to expand Apple Pay to allow iOS users to make purchases from websites later this year, reports Re/code. With the change, Apple Pay will be available to customers who visit websites and make purchases using the Safari browser on iPads and iPhones. Currently, Apple Pay can be used to make purchases in brick and mortar stores and in third-party apps that support the service. Expanding Apple Pay to the Safari browser will alleviate the need for customers to download a store's app to make a payment with Apple Pay, resulting in a payment service that is more convenient and more closely resembles services like PayPal."
http://www.macrumors.com/2016/03/23/apple-pay-mobile-websites/
Apple Pay information for merchants you may find helpful:
https://support.apple.com/en-us/HT204274
Got Business Questions?
Get unlimited online business consultation.
Learn More