6 Touchdown Business Card Printing Tips from the Pros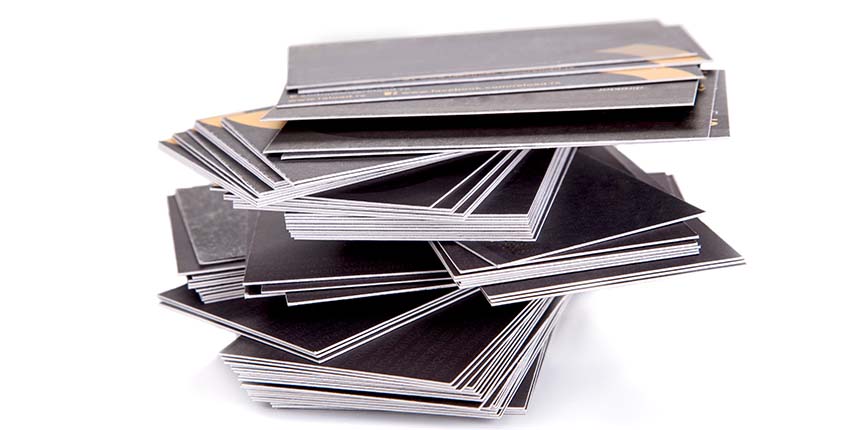 It's football season, and as the quarterback of your small business, a business card is one of the most important assets in your marketing playbook. Step up your game and give prospects a strong, positive impression with these business card printing tips from PostNet Printing Pro Andy Collins, who has nearly 30 years of experience in both offset and digital printing.
1. Less Is More
Remove as much clutter on your card as possible so prospects can clearly see the most important information: your name, company and contact information. The busier a business card is with graphics and text, the less effective it will be. A business card's primary function is to be a call-to-action (e.g. Go to your website for more information, call or email your business to make a purchase, etc.)—not a catalog of your services. Listing out every detail about your business and products can be overwhelming and difficult to digest. If you don't want your business card to be filed in the trash, be clear, clean and concise and prospects will remember you.
2. Size Matters
The industry standard for business cards is 3.5 x 2 inches; however, since it is the standard, most people's cards are that size. If your goal is to stand out, custom sizing might be the route to go. For example, if your business has a logo that would fit nicely within a square shape, consider looking into a square-shaped 2.5 x 2.5 inch card. Unorthodox card sizes stand out immediately in a stack of standard rectangular ones.
3. Thickness
The thickness of your business card is also something you can play around with. The .016 inch card (16 pt.) is the industry standard, but a thicker and heavier .032 inch card is slowly becoming more common. Business professionals who regularly trade business cards receive so many .016-inch cards that if they're handed something thicker, it almost always causes them to give the card a second look. It grabs your attention and gives your card added "weight," while usually only sporting a price difference that is 15-20 percent higher than your standard card, depending on how thick you want to go.
4. Color and Images
With the advances in offset printing as well as the advent of digital printing, it has become more and more common to see every square centimeter of a business card covered with some sort of image or color. Invest in white space so your message stands out. Avoid using too many images; one striking, high-resolution image on your business card should do the trick. Do not use low-resolution imagery or multiple images. You don't want it to look like a low-quality collage.
5. Text
The font on a business card is subject to each business owner's discretion, but it generally should complement your company logo and adhere to brand standards. Two important points to note:
Do not use your logo font throughout your card
Do not use more than two fonts overall
As far as font size is concerned, do not go smaller than 8 point on phone numbers and 11 point on your name and title. The more text you include, the smaller your font will have to be. If you are short and sweet with your text, the larger and more prominent your text will be.
6. Find the Right Print Partner
Your relationship with your print partner should be just as important to you as any other business partners you work with on a regular basis. You can just as easily order a stack of business cards from a website, but, in that case, you never really know what you're getting until it arrives in the mail. Just like buying clothes, it feels better when you are able to see and feel what you are buying, instead of just accepting whatever arrives in your mailbox. A full-service printer can provide you with insights, techniques and advice that can help you create the best quality business cards on time and on budget.
If you're looking for a teammate to help you score big this football season, look no further than PostNet for all your business card printing needs. PostNet is your local business partner for printing, marketing and shipping solutions. Contact your local PostNet center today at www.postnet.com/locations.