4 Ways High-Quality Video Content Can Help Your Business Grow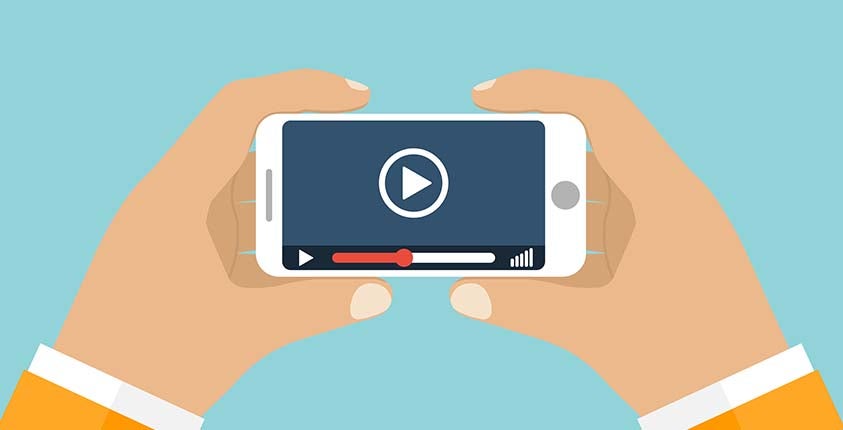 Whether you work at a hardware store in the middle of Texas or sell handmade jewelry out of your garage in California, every video you release to the world will be a reflection of your brand. Every word and camera angle must aim to captivate consumers, build a loyal following, and drive sales—all while portraying your company in the best possible light.
That sounds like a lot of pressure, doesn't it?
With such high stakes, it's crucial to put your whole heart into your video creation efforts. Don't just make videos for the sake of making videos. Boring, low-quality content won't just be ignored; it'll turn consumers off. Your audience is giving you the gift of their attention, and to squander it with a haphazard attempt at content is just a wasted opportunity.
Further, don't limit yourself to just one video and hope that everyone sees it. Having multiple pieces out there for targets to engage with will lead to a deeper brand connection.
At this point, you're probably thinking that creating multiple high-quality videos about your business sounds awfully difficult and crazy expensive. But with the right strategy in mind, leveraging video content to further your brand is not nearly as hard or costly as you'd think it is.
Craft Your Winning Strategy
Producing a single high-quality video for your small business can cost as little as $500 or as much as $20,000—it really depends on the resources you already have in-house and how much work you're willing to do yourself.
Regardless of the size of your budget, the largest portion of it should be devoted to production quality. Shaky, grainy, vertically shot iPhone video simply won't cut it. Invest in a nice camera, hire a skilled videographer, or work with a full-fledged production company to ensure your videos are as visually appealing as possible.
Stunning imagery is only half the battle, though. Don't waste your high-quality production on a low-quality story. Be sure to develop a script that touts your product and brand message without being overly promotional. Today's consumers don't want to be sold to; they want to be entertained and educated. "Useful" is the new "cool"—so be sure your viewers feel like they're learning something.
Next, find some sharp-looking, engaging individuals who embody your brand's values. Then, hand them your scripts, put them in front of the camera, and watch them establish your small business as an industry expert.
When a brand produces stunning videos that feature compelling narratives delivered by attractive talent, they automatically shoot to the top of consumers' minds.
Pura Vida Bracelets is a small business that has content creation down to a science. Leveraging an amazing background story and a distinct brand lifestyle, the company creates gorgeous branded videos and distributes them solely through Facebook and Instagram. Some are even shot by one of the owners, Griffin Thall, who bought himself a drone last year and has become an outstanding pilot.
Pura Vida's original strategy was to cultivate high-quality photography content and distribute it through the social networks of brand ambassadors and influencers via product placement. But eventually, the strategy expanded to include video content, and since then, the company has earned a cult-like following and is seeing much higher engagement.
To date, Pura Vida has sold millions of bracelets, and this year, it's on track to exceed $10 million in sales. The key to the company's success is that it knows its brand and its audience. Every piece of content put out into the world highlights a unique, captivating brand vibe.
How Video Can Help You Today
The first question you need to ask yourself is, "What's my company's greatest need?"
Are you looking to build anticipation for your big launch, or are you looking to firm your footing in an ultra-competitive market? Are you seeking to woo the best and brightest job candidates, or are you simply aiming to improve your site's SEO? Regardless of your situation, building a stable of strategic video content will only support you along your journey.
Here are four ways videos can help a small business grow:
"Nice to meet you." Like a firm handshake or a nice tie, videos are an excellent way to introduce your brand or new product to the market. Explainer videos, in particular, put your sales pitch in front of viewers quickly and efficiently. If it can't be told in 90 seconds, then you're not doing it right.
"Now you see me." Everyone has a website these days, but not everyone's website pops up on the first page of Google. Search engines favor sites where people stick around for longer than 60 seconds, and embedding great video content can provide your company with this much-needed SEO boost.
"I know what I'm doing." By sharing your knowledge and experience in a video, you are able to show people that you know what you're talking about. If you consistently churn out videos that provide a unique perspective on a problem your company seeks to solve, you'll quickly establish yourself as a market leader.
"Would you like a job?" The best companies have the best people working for them, but recruiting top-tier talent can be a time-consuming task. Posting brand story videos on your website is a highly effective way to showcase your company's culture and convince candidates that your company would be awesome to work for.
While your videos should have a certain "wow" factor to them, you don't need to break the bank and hire Steven Spielberg to produce them. As long as they look great and teach your audience something useful that sticks in their minds, you'll be golden. When you do video right, the results will speak for themselves.
Want to grow your business?
Become a GoSmallBiz member today!
Get Started Now